install spiral balance 400
A quick learner says:
May 10, 2015
How to install this thing? I have installed it, and when I slide the window up and down the spiral balance gets out, it is not clipped to the window. How to clip it to the window?

30-inch/pd/Series-400-Spiral-Balance/S400-30
Tom from SWISCO responded:

May 12, 2015

It depends on the kind of clip. The

S400-30

uses many different kinds. If you can show us a picture of your existing clip we can recommend how to properly install it. In the meantime, see our guide for some additional help.
A quick learner from dallas tx says:
May 12, 2015
then push the brass cross pin up into the latch in bracket - this comes from the instructions above. The thing is there is no bracket at the bottom of the window. Brass cross pin should be completely inside the balance/sash. I see it on balance on the other side. It seems like the spiral gets locked some how. My question is how to lock the spiral, maybe just a pus,, but I have done. And other question maybe I can install the bracket on the bottom of the window? It should be easy. Thoughts?
Paul from SWISCO responded:

May 13, 2015

Can you send some photos showing your old balances? Make sure to show us the bottom of the sash up to where the balances are suppose to attach. That will let us see what you have and what may be missing.
A quick learner says:
May 25, 2015
Sorry, was out of town. So here are the pics. First one is the right side. And the second and third are the left side, where I an trying to install the spiral. All the looks are from the bottom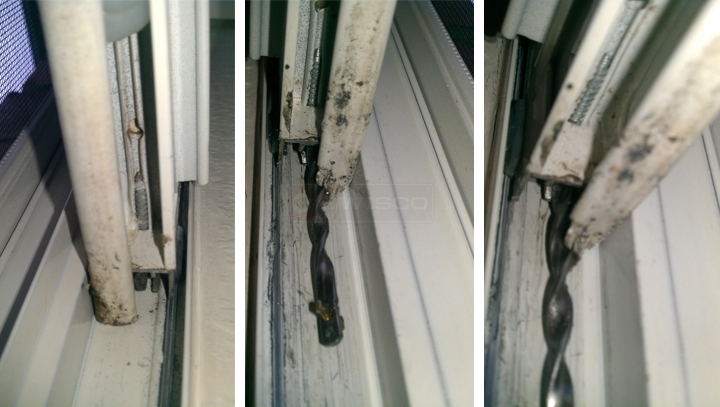 Paul from SWISCO responded:

June 1, 2015

I see the clip is attached to the side of the sash. Being a builder's grade window, the sash won't be removable. However, we do have a possible solution.

With someone helping you, you will need to drop the new balance in from the top of the sash, screw it in at the top, then let the spiral drop down. You will then raise the sash and, while someone holds the sash in the open position, spin the spiral up to the bottom of the sash. Finally, with our

75-004

tool, give the balance about three turns to charge it and lock it to the end into the sash clip.

Let me know if you have any more questions.
A quick learner says:
June 5, 2015
Thank you. I will try.