need new channel balancers
A quick learner from san diego says:
October 14, 2013
i have attached 2 pics of the balancers i need to have replaced. i need 4 of each. in case you can't read the numbers, they are:
26DS 34 and 17DS 23
can you advise please?
mark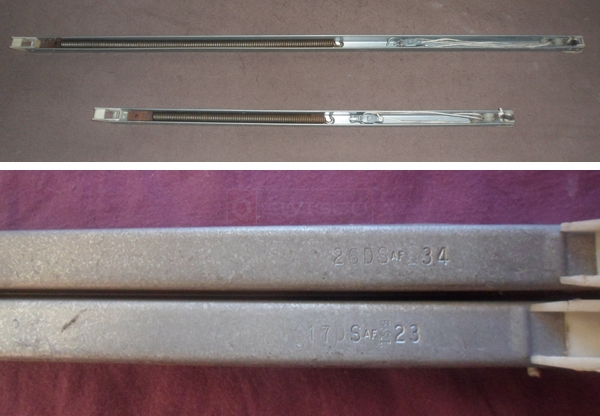 Tom from SWISCO responded:

October 15, 2013

Hey, thanks for posting. I've narrowed this down to two possible channel balance Series: either our

Series 351

or our

Series 390

balances.

Now, as you can see, there is only one difference between these two Series, and that is their bottom shoe. The

Series 351

uses the

15-002

while the

Series 390

uses the

15-001

. I can't quite tell what you have based on your pictures, though. Please carefully compare their dimensions to your own hardware and see which is a better match.

Can you also confirm the weight of the sash that goes to each balance? That will help us confirm the best weight options.
A quick learner from san diego says:
October 16, 2013
my balance requires the
15-001
bottom shoe. is there anywhere on the sash that gives it's weight?
Tom from SWISCO responded:

October 17, 2013

There probably isn't a marking that tells you the weight. The easiest way to get your sash weight is to remove it from the window and place it on a scale. Any common bathroom scale should do. Check out the video below to see how you can remove the sash.
A quick learner from san diego says:
October 17, 2013
i have weighed the sashes and i get 34lbs for the 26DS 34 balance and 23lbs for the 17DS 23 balance. can you help?
Tom from SWISCO responded:

October 18, 2013

Thank you. Looks like your sashes are heavier than is typical. One of the needed balances will have to be custom made. Before we get started, I would just like you to confirm that the length of the metal channels for each balance are 27" long (26DS) and 18" long (17DS), respectively.

If so, then I think I can help you out. The first balance would be for a

S390-27

with a 2665 option. Two balances with this option can carry a window sash weight of 33 through 36 pounds.

The second needed balance,

S390-18

, would need to be custom made with a 1760 option. Two balances with this option can hold 20 through 23 pounds. You should confirm that this sash is either 23 pounds exactly, or a little below, because if it's over then the 1760 option may not be best.

If this information looks good to you, then fill out this

custom order Form for the S390-18

. Once you've filled out and submitted the rest of the information, one of our representatives will get back to you shortly thereafter with a price quote and an item for each that you can add to your cart, so that you can order them both at the same time along with anything else you may need.

If you think any of this information is incorrect, or if you think anything should be changed, let me know and we can work from there.