pan Am Jalousie window operator
A quick learner from St Augustine, Fla says:
February 28, 2014
Is it right or left handed?? I am perplexed -on your site the there is one that looks just like it-r handed- but the part that is broken on mine is on the other side. Can you help?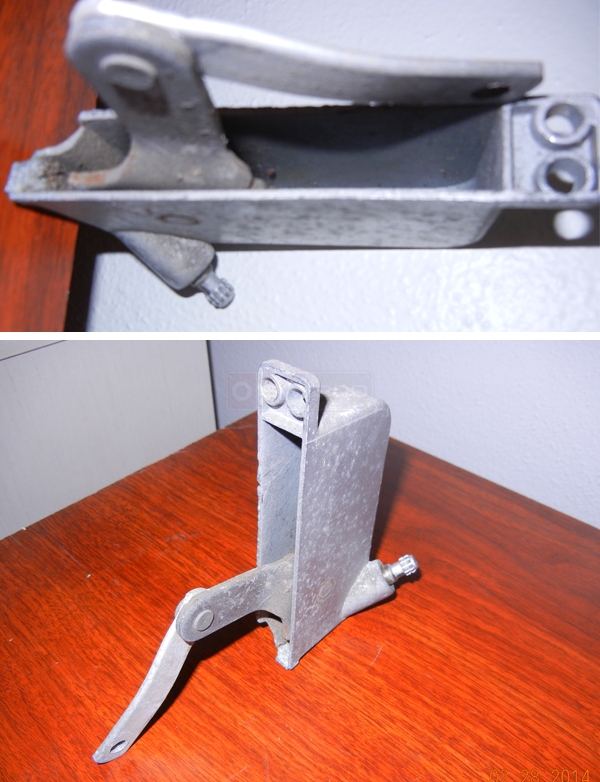 Dave Sr. from SWISCO responded:

March 3, 2014

Thanks for posting. This operator looks to be right-handed, but I'm not sure what it is, specifically. Is there another operator identical to this (regardless of whether or not it's right or left handed) that you can measure? I would like to know the distance between hole centers from one side to the other. Thanks!
A home owner from St Augustine says:
March 3, 2014
Thanks for your response. The bottom fastener is missing. I measured to the best of my ability from the center of the top hole to where I think the center of the bottom hole would be and it is 4 and 7/8ths where the Daryl on your site is 5 and 1/4. The distance from midbolt of the small arm the center hole at the end is 2 and 1/2 inches. Could you please weigh in on why the bottom fastener looks to be on the opposite side to the right handed operator Daryl
39-017
. Does it really matter what sid it is on. otherwise mine is identical to the
39-017
.
Dave Sr. from SWISCO responded:

March 4, 2014

Hmm... check the installation holes on the window itself, then. That should give you a more accurate reading of what the distance between the hole centers are. Also, is the hole at the end of the link arm a plain hole or does it have a machine screw thread?
A home owner from st augustine says:
March 5, 2014
I measured the holes from the old one-it is 5 and 1/4. I am going to order the
39-017
and hope for the best. Thanks.