sash parts for windows
A landlord from New Jersey says:
March 19, 2013
Hi, some of these were attached to the sash cord that I included in the picture with the needle nose plyers holding it. The windows basically won't stay open and I think it's because the plastic clips broke apart. I'm not sure of the window manufacturer but I included a pic of the window. I also need the part that has the button to release the window. I included a pic of that too. Basically I need sash clip parts for three windows just not sure the make and what parts I need. Thanks for any guidance you can give.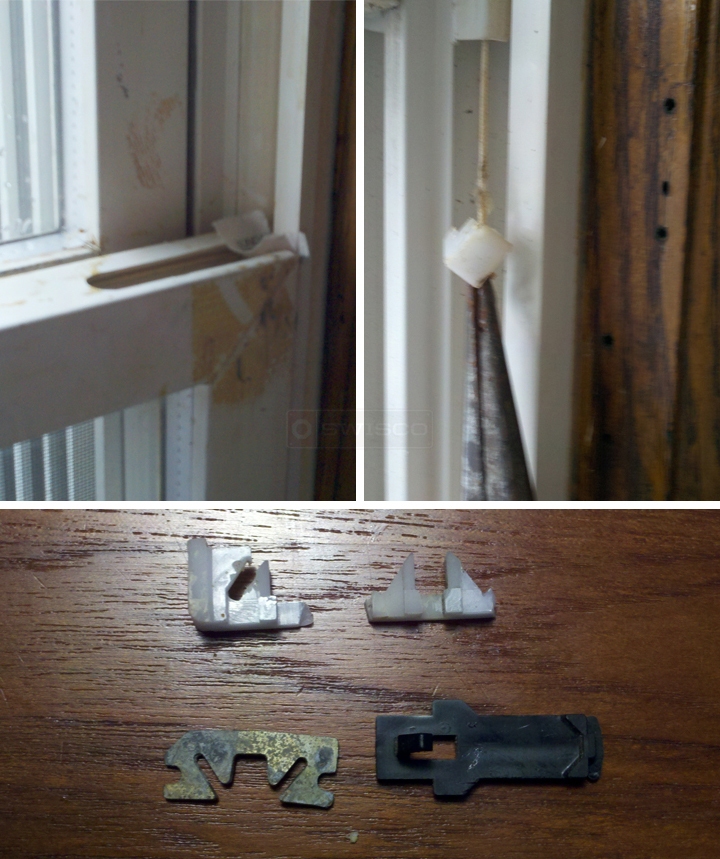 Tom from SWISCO responded:

March 20, 2013

Good morning, and thank you for posting. Looks like you have a few things that need replacing, but I'm having a hard time identifying them based on these images. Let's go through them one by one.

The first thing I want to talk about is the tilt latch in the upper left image. It looks like yours is missing. Are they missing on both sides? I won't be able to identify what you need without seeing what was originally installed. If both are missing from this window, take a look at some of the other windows in your house and see if any are identical.

Next, let's work on the window balance that's peeking out of the upper right image. It looks like you're pulling down its clip with needle-nose pliers. Same as the tilt latch, I can't quite make out what it is based on this image. Could I see a clearer shot of that clip at the end of the string? In fact, it may be best if I also see the balance removed from the window. This is probably the major reason why your window can't stay up. If there is no more tension, the balance has to be replaced.

Finally, let's look at the pivot shoe in the bottom image. It looks like it's been broken into several pieces, so I don't know what you had originally. Do you have an undamaged one I can see? To get a good idea of what it would look like, look through our

Pivot Lock Shoe Section

on our site. If you are able to find one that is undamaged, I'd also like to know its width and thickness.
A landlord from new jersey says:
March 21, 2013
Hi Tom,

Just one tilt latch is missing, I'll post a pic of the exisitng tilt latches that are still there. There is plenty of tension in the cord still, the end of the cord has an eyelet on it that I'm clasping with the pliers. I'll take a clearer pic of that as well later today. I have undamaged pivot lock shoes in other windows, just not sure how to get them out to take a pic of them but I'll check through the link you provided to see if I see a match. I think the windows are anderson but I have no idea. Does the make matter when looking for parts?
Tom from SWISCO responded:

March 21, 2013

Well, it depends. In the case of Andersen hardware, it is very important. Andersen parts are pretty unique. However, their balances don't usually use pivot shoes like the kind I think you have. I'd like to see pictures before I start guessing. Let me know whenever you can get them to me.

You may also want to take a look at this tutorial video that shows the best method of removing pivot shoes from a window. It may be some help.
A landlord from NJ says:
March 21, 2013
Here is a slightly better picture of the shoe or clip as well as the tilt latch. I think the make might be "cutting edge", not sure. I also included a pic of the clip/shoe of a window that is functional. Thanks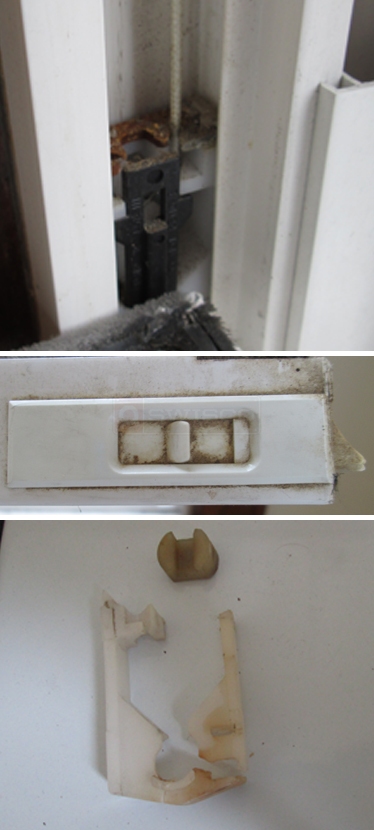 Tom from SWISCO responded:

March 28, 2013
A landlord from NJ says:
March 28, 2013
thank you Tom, the shoe looks like it's the one, the dimensions are correct. I need to measure the tilt latch. also what about the black piece that is on the side of the shoe in the pic, is that a separate piece or part of the shoe? thanks
Tom from SWISCO responded:

March 28, 2013

It may be something similar to our

26-028

, but it's a little different. I also don't think its a necessary part, but take a look and see what you think.
A handy person from Sacramento, CA says:
December 2, 2013
Experiencing the same problem. The pivot corner lock fits milgard windows. In my case a double hung window H-LC25-48X78. I ordered the
15-210
however, the black lock on the side becomes lodged in the window and won't slide up or down. The tamp 'R' lok must be located on the front/center of the lok.
Still trying to find a loo that will work.
Tom from SWISCO responded:

December 3, 2013

Thanks for posting. If the black lock is engaged, then you should be able to just manually turn the cam with a flat-head screwdriver to disengage it. This will allow you to move it up and down.