stamp 15 bsi stamped
A quick learner from california says:
August 26, 2014
I have 4 different lengths and 4 different stamped balance rods. I am sending this set of pictures of a single rod with the purpose of identifying the top and bottom correctly.
The rod in the picture is a 16 inch, non-tilt.
Here is what I need for an order:
16" stamp 15B b.s.i. quantity of 4
13" stamp 12B b.s.i. quantity of 6
25" stamp 24B b.s.i. quantity of 4
22" stamp 21A b.s.i. quantity of 4
all of the above are non-tilt 1/2" channel balancers. I need help assuring the correct top and bottoms are identified.
All of the above are the same top and bottom.
Thank you,
charlie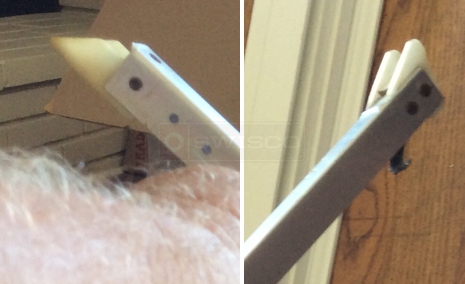 Tom from SWISCO responded:

August 28, 2014

Hey, thanks for posting. If all the balances have the same attachments, this should be simple! I've narrowed your balances down to two possible channel Series: either our

Series 351

or our

Series 390

balances.

Now, as you can see, there is only one difference between these two Series, and that is their bottom shoe. The

Series 351

uses the

15-002

while the

Series 390

uses the

15-001

. I can't quite tell what you have based on your pictures, though. Please carefully compare their dimensions to your own hardware and see which is a better match.
A quick learner from california says:
August 29, 2014
with your assistance, we have determine that all of my channel balancers are
series 390
and I have the length measurements ready to place an order.
I am still confused by the stamp markings since my numbers don't match what the web site shows.
What should I do for each rod based on the stamp information I entered on 8/26?
Tom from SWISCO responded:

August 29, 2014

Sure! In this case, I recommend the following stamp options:

-15B would be 1520
-12B would be 1220
-24B would be 2420
-21A would be 2110

You may want to weigh your sashes just to ensure that these are the correct choices. We have a list of options for each balance that shows how much weight each can support.