Ducana Windows question. Any advice would be appreciated
A home owner from North Berwick says:
May 8, 2015
Dear Sir/Madam
My name is Frank Tait and I live in North Berwick post code EH39 4HB Scotland.
My mother purchased Ducana Windows through-out her home in January 1989 (note Ducanna is no longer in business).
We have tried to get assistance to service these windows and two window specialist companies arrived, examined the windows and said they would come back with a quote to service and repair them, but to no avail. Can you please examine the attached pics and offer your best advice.
On the bay window shown in one of the pics when opening the top centre window it slopes back into the room and is quite scary (about 5deg.) It could be designed like that of course?
I would appreciate your comments and suggestions
Best regards
Frank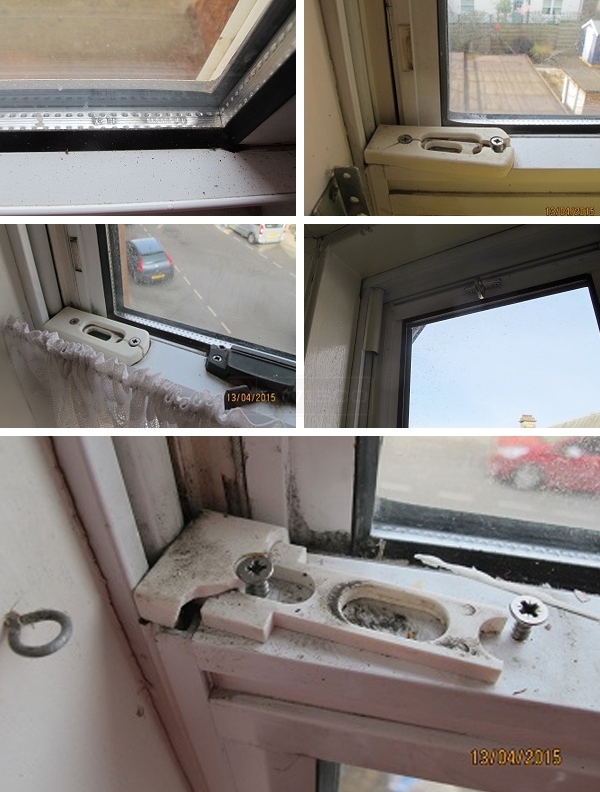 Dave Sr. from SWISCO responded:

May 11, 2015

Hello, Frank. I believe we can help, however we need to know the spacing of the installation holes. That will help us to determine which tilt latch to use on your window. As it is there are a lot of possibilities that come to mind but with that detail we can narrow down our search. Thanks!
A home owner from North Berwick says:
May 15, 2015
As requested the pics
We have 10 windows with 4 latches on each i.e. 2 on the top and 2 on the bottom
The retaining screw holes are 2 1/4" centres. The dimension from the edge of B-756-B to the first hole centre is 7/8"
Please quote me for 40 latches that will be 20 each L/H and R/H
Thanks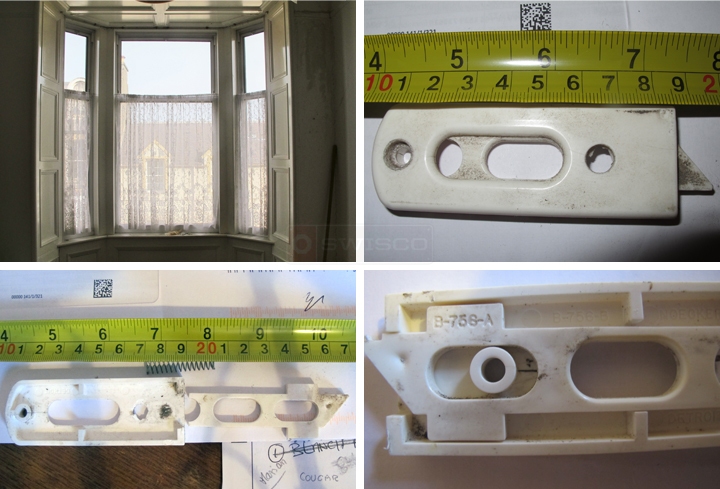 Paul from SWISCO responded:

May 18, 2015

You mentioned in a later email that the hole dimensions you gave here are not accurate. It's hard to make out based on just a tape measurer. Can you clarify what the hole spacing is, when measured center-to-center? Thanks!
A quick learner from North Berwick says:
June 5, 2015
please find dimensions on attachment as requested
Frank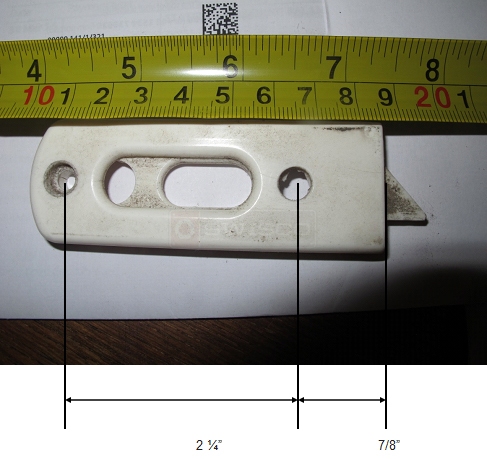 Paul from SWISCO responded:

June 8, 2015