1 1/8" roller kit for door
A quick learner says:
November 12, 2012
I can't seem to find a 1-1/8" roller and axle kit. ( I found the 1-1/4")
My current rollers are riveted directly to the frame of the door, no housing.
What should I order for the axle/rivet/nut &bolt.
I am looking to replace the rollers (qty. 4) along with the axle (in this case a rivet) on my two glass door sliders.
The current roller is 1-1/8" dia. x 5/16" with a 1/4" center (rivet/axle). The doors are 40" x 77" and the thickness is 13/16" (7/8"). I would prefer not using rivets, but will if necessary. There is no roller housing, the roller is riveted directly to the door frame.
I believe your 81.223 or similar is the roller. Your 81.266 is a kit, but with a larger (1-1/4") diameter roller. Could not locate a kit with 1-1/8". I do not necessarily need a kit, just an appropriate axle / bolt & nut with a 1-1/8 dia. roller.
Looking forward to your recommendations.
While I have you...... what are you recommendations regarding new (bottom and jamb) weather stripping. Sorry, haven't looked up the weather stripping. Just now noticed looking at the pics they could use it, especially the exterior side.
Thanks,
Ro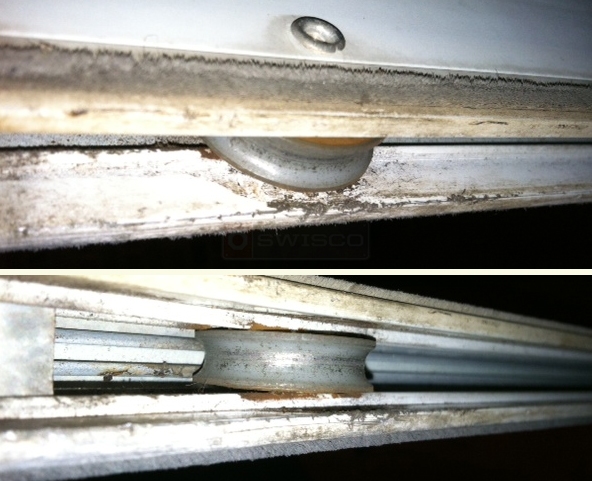 Casey from SWISCO responded:

November 14, 2012

Thanks for posting! It looks as though your roller may have been worn down to 1-1/8". Do you think that is possible? If so, the

81-266

1-1/4" dia Roller and Axle Kit may work for you, after all. It would potentially only add 1/16" to the raise.