Looking for sliding door rollers for doors most likely from the 1970's
A handy person from New Hampshire says:
July 7, 2016
Hello,
We've just recently purchased a home that was built in the early 70's. One of our sliding doors is difficult to move, and when I checked the roller assembly's, it appears that one of them is broken, and the other one has had is threads stripped from an attempted adjustment.
There are no markings, or manufacturers listed on either the door frames, or roller assembly's them self. The only manufacturer is on the glass, which was apparently made by Ford Motor Company.
I've enclosed pictures of what the roller assembly's look like, and included a measurement of the bolt spacing of the bolt that holds the roller assembly to the bottom of the door, which appears to be around 1 1/16ths. The side mounting, and adjusting screws appear to be a standard spacing to a roller assembly I tried to install from Lowes.
The roller assembly appears similar to another roller assembly on your site (part number
81-129
), but with one important difference. As you can see in the photos, the roller assembly has a pocket on the top of it. The assembly you sell is solid on top (mounts flush with the door frame). The pocket is important, in that on the bottom of the door where the rollers live, there are L shaped brackets riveted to the bottom of the door frame that fit with-in the pocket of the roller assembly. The L brackets also contain the threads that the screw from the bottom of the assembly (seen in one of the photos) screw into.
I'm not sure if these L brackets need to be removed in order to fit a new updated roller assembly (like
81-129
), or this is just an obscure part that's obsolete with no replacement options.
I'm an automotive technician by trade, so removing, and modifying things to make new parts work wouldn't be an issue.
Thanks,
Erik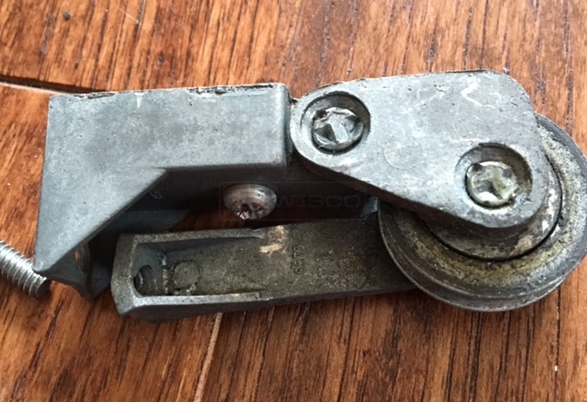 Paul from SWISCO responded:

July 11, 2016

I recall running into this type of a roller many years ago. Your roller assembly hasn't been available for years, unfortunately. From what I recall, I was able to replace it with our

81-278

, which has a 1-1/2" wheel.

To do this, you will need to remove the door and lay it down on a table or saw horses. Unscrew and remove the bottom door rail from the glass carefully with a block of wood and hammer. Now remove both parts of the old wheel, line up the top hole of

81-129

roller and drill a hole so you can attach it with a

33-103

screw (or equivalent). Do the same on the other side. Reinstall the bottom rail to the door and you should be done! I believe the end holes line up, but if not you might have to drill hole to accommodate the

33-104

frame screw and opening for the adjusting screw.
A professional from CA says:
July 11, 2016
A handy person from New Hampshire says:
July 12, 2016
Paul,

Thank you for the response. I really appreciate that your site offers the ability to speak with an expert on a subject that would probably baffle most home and hardware store clerks.

I had a suspicion these assemblies were NLA when I started looking around.

As a follow up question; Since it looks like I'll be modifying the door for different roller assemblies anyway, would it be better to use assemblies with dual rollers rather than singles?

I've muscled this door out a few times, and it's quite heavy (as I'm sure most aluminum framed sliders are). I figure dual rollers would displace the weight better than singles, taking it a bit easier on my old track (which is still in good shape) and make sliding the door a bit easier too.

If you think it's a good idea, would you have any suggestions on a suitable type?

Thanks again,
Erik

Paul from SWISCO responded:

July 14, 2016

Unfortunately at this time we don't have a tandem roller with the width & height or the top threaded hole to match

81-278

.