Need replacement Dual Coil Balance
A professional from Abbotsford BC says:
April 8, 2013
Hello,
I am trying to replace the coil balance for a customer. Below I have attached a photo of what it looks like. For each window, there are two coils on each side. The one coil has a 6 stamped on it and the other has a 5. The coil marked with the 6 matches the
Series 150
coil balance but I cannot find the other one. It has two slots in it. I have attached a photo of that coil close up as well.
Will the Dual coil Part number
S140-11
work if we replaced all of them with this type? I have been searching for a week and am having quite the time here any help will be much appreciated.
Note: The image showing the two coils on the one side together is how the item was taken out of the window.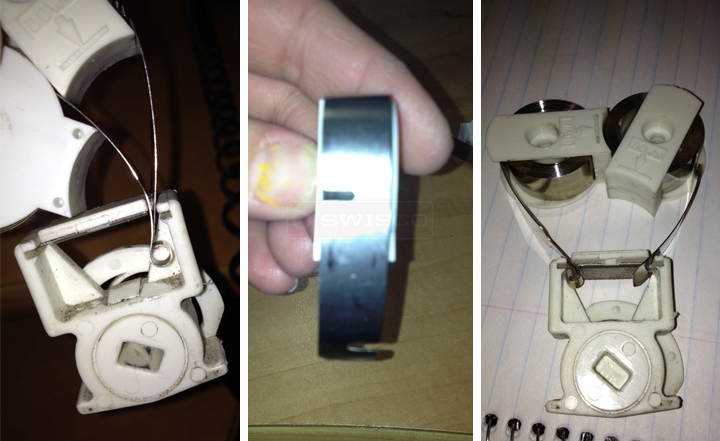 Paul from SWISCO responded:

April 9, 2013

Thanks for posting! I'm afraid that the spring with the two slots cut in it is no longer made. I think you should consider using our

S150-6

and

S150-5

coil springs. Do you agree

As for the other hardware, you should look at our

15-140

shoe,

15-143

bushing, and

15-144

bushing cap. Does all this hardware look like they match?
A handy person from Abbotsford BC says:
April 9, 2013
Looks like thats all the parts I require. The only concern I have is that the two coils you suggested are the same and look identical to one of the ones I currently have, will it be a problem is they are the same? If not, I dont understand why they composed it of two separate types of coil in the first place.

What is your return policy? I have two windows to repair and i am not s ure what is wrong with all the coil balances. If I ordered all the parts for each one but dont need them all can I send them back?
Paul from SWISCO responded:

April 10, 2013

To be honest, it's pretty typical for all the springs in a window to all be the same. That said, it's still always a good idea to replace your hardware with what was installed originally, so ordinarily that's what I'd do. But we cannot replace the notched spring as it is not made anymore. Two

Series 150

springs is the best alternative we can offer.

You can absolutely return your hardware. Take a look at our

Return/Exchange Policy

for more information.