Please help me find original hardware for bifold door
A home owner from Washington, DC says:
December 23, 2012
Hello: I recently purchased a home with 10 of these bifold doors. All of them were jury-rigged in some way or another, so I have no idea what the original hardware is. I would like to replace the current hardware with the appropriate original hardware to maximize the functionality of the doors.
Each bifold set has 2 fixed pins (one top and one bottom) and two sliding pins (one top and one bottom). Are these all four different sets of parts? Any insight you could provide would be most appreciate. I am attaching a photo of some of the odd and end parts I have found, but i have no idea what to do with them.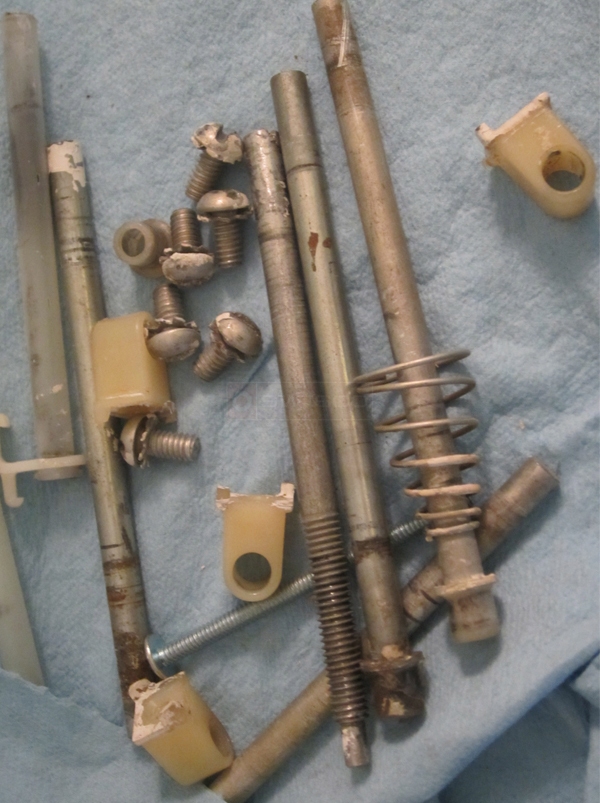 Paul from SWISCO responded:

December 27, 2012
A home owner from Washington, D.C. says:
December 28, 2012
Thanks, Paul! The doors are from 1962 (they are 8 feet high!). Thank you for pointing out these parts. They look like they will work! I will order a few and see how it goes.
One last question: would you recommend 3 of the Spring loaded pivot rod
21-007
(for top pivot and top and bottom guides) and one of the
21-001
for bottom pivot for each door?
thank you.
Paul from SWISCO responded:

January 2, 2013

Yes, very good! That is exactly what I would recommend.
A home owner from Washington, D.C. says:
January 5, 2013
Dear Paul: I have ordered enough for a few doors to start out, and if I can figure it out, I will order more for the rest of the doors :-). One question, does part
21-154
go on both the top and bottom pivot pins or just one of them? Thanks very much.
Tom from SWISCO responded:

January 7, 2013
A home owner from Washington, D.C. says:
January 9, 2013
hello: i purchased two replacement parts at your suggestion:
21-001
and
21-007
. I can't figure either one out.
21-001: There are two silver-colored pieces of metal on the pin that prevent the pin from going through the hole provided for it. Do these pieces of metal come off? i have tried to take them off but cannot do it. But they cannot go through the hole meant for the pin with the metal pieces on the pin.
21-007: There is a white plastic sleeve for the pin that is clipped to the plastic cap and compresses the spring. It seems as though I should remove this when I install the pin. However, it cannot be re-attached to the pin once the pin is in the hole in the door, and the spring is uncompressed. Is it trash? Does it have any purpose? I can't figure it out.
I tried to phone but i could not get through. I cannot figure out how either of these parts works. Thank you.
Mike from SWISCO responded:

January 18, 2013

Thank you for your patience in this matter! Please see our new handy tutorial which details how to install this hardware.
A home owner from Washington, D.C. says:
January 20, 2013
Dear Mike: Great video! Thank you, it is very helpful. The spring-loaded rod is very easy to install. My doors look exactly like the one in the video. However, the threaded section of the threaded pins that I purchased do not easily fit inside the hole that is available like they do in the video. The hole is 1/4 inch across. I can force the pin in by rotating it with a wrench, but I am not sure if that is the best idea (and it's hard work, I had to get out the old hardware this same way). So I wanted to check with you first. Is there a threaded pin that is a bit narrower that would work for this door?

Also, the screw that comes with the pivot rod clamp doesn't seem to project beyond the inside hole of the clamp even when screwed all the way in -- so I am not sure how it works.

Thanks again for everything. I really appreciate it.
Mike from SWISCO responded:

January 22, 2013

Thanks for getting back to us! I'm glad to hear that our video helped you, though I'm sorry to hear about the tight fit. I was afraid of this possibility. Some of these closet doors have smaller holes that cannot easily accommodate our screws; they're uncommon enough, but every so often we'll come across one.

Fortunately, the solution is easy! You were wise not to try to force it, that may have only damaged the pin itself. The best method is to take a simple rat-tail file to widen the hole. I've done it myself and you should only need to take a sliver off. It took me maybe about a minute of filing and testing the pin before I got it to a comfortable size.

As for the

21-154

Pivot Rod Clamp, never fear! The screw is not meant to go all the way through. It is simply there to secure the clamp to the pin. Once you are able to get the pin in, you should see why.
A home owner from Washington, D.C. says:
January 27, 2013
Thanks, Mike! I bought a round file and it worked great. A little elbow grease and the pin fit. Now I am still having a hard time getting these 8 ft doors installed, They are not running smoothly but I think I have to adjust the height of the fixed pin and maybe which hole to use, etc, but I am sure i will figure it out in time.

Thanks again for everything.
Mike from SWISCO responded:

January 28, 2013

No problem at all! I was happy to help. I agree that you should try adjusting the doors--play around with them a little and see if you can get it to slide comfortably. Let me know how it goes!