S380-24 with matching top sash guide
A quick learner from California says:
September 30, 2010
I'm ordering S380-24. But, I need to replace a broken top sash guide, too. Which top sash guide is for S380-24? The weight of the sash is 13 lbs. Is 2330 the right option?
Donna from SWISCO responded:

October 1, 2010

We recommend replacing the balance series and stamp to the original. The S380-24 with stamp option 2330 is rated for a sash weight of 15 through 18 pounds. This is an approximate weight suggestion, it is based on 2 balances per sash. Balances are designed assuming friction in the jamb weather-strip will carry a portion of the sash weight.

For the top sash guide, it might be

18-032

or

18-018

, if it differs and you cannot locate it in our

Top Sash Guide

section, please reply with a photo of your sash guide for us to research.
A quick learner from California says:
October 4, 2010
Hello, Thanks for all your help. I have used the S380 series for my sashes. However, for one of the sashes, I need to replace the top guide, too. This sash is S380-24, and the measured weight is 13 lbs (although its stamp says 23-3, suggesting 2330?). Anyway, please, check the attached photo, and guide me which top sash guide I can use for the S380 series. Thank you very much, SK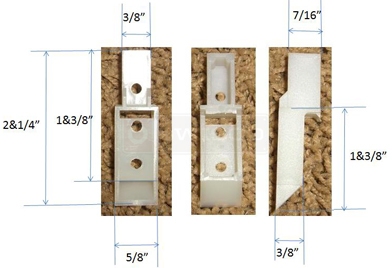 Donna from SWISCO responded:

October 4, 2010

I believe I found the needed replacement stepped top sash guide; we will post again as soon as it is available for purchase.
Donna from SWISCO responded:

November 16, 2010

This product is now available, see SWISCO part number

18-171

.
A quick learner from California says:
November 29, 2010
Thank you for your excellent on-line support. I have recently used the S380 series (S380-24, -27, -30) to replace several balances. I thought they were nearly identical, but it seems that there may be "subtle" difference. One problem I have is that the terminal clip doesn't engage the sash frame securely enough, so that the balances often fall off. When it happens, the plastic parts inside the balances tend to break. Could you kindly check the attached pictures and inform me if S380 is the correct replacement? Or, if there happens to be a better type of balance, could you let me know so that I will replace them?
Thank you again,
SK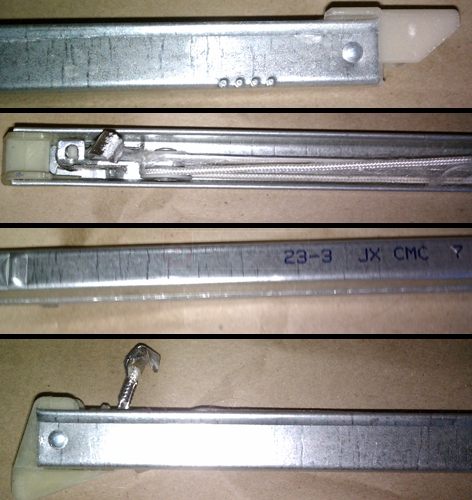 Mike from SWISCO responded:

December 1, 2010

The Series 390 may be the balance you need. The sashes on your balance(s) may be loose in the frame because, mostly because the shoe (15-005) is too short. You may need a longer shoe, like the Swisco 15-001. However, before we recommend the Series 390 as a replacement, please give us measurements of the shoes so we can better determine the part(s) you need.
A quick learner from California says:
December 9, 2010
I've done a quick measurement. It does indeed appear that 15-001 is the right shoe, not the 15-005. However, the Series 390 has a non-matching balance top 19-002. The Series 380 has 19-005 which matches my old balance. Can the Series 390 be shipped with 19-005 balance top?
Donna from SWISCO responded:

December 10, 2010

Yes, we can custom make the needed configuration. You can also fix the balances already purchased with the needed attachments, see the following how to guide: