Spring Roller Adjustments
A home owner from Oakland, CA says:
April 16, 2013
My existing screen door has 4 spring tension rollers, each with a screw. I'm not sure if the screws are holding the rollers in or allow for adjustment.
My question is if I were to get new rollers and new adjustment screws, will the screws allow me to effectively "lengthen" the height of the door? Currently, it rocks back and forth when slid and easily falls out of the tracks.
It is an extruded aluminum door, and so frame cannot lengthen (adjust). It seems I need to somehow take up about about 1/2" to 1" gap to make the door fit more snugly.
Also, top rollers seem to fit into U-channel, while bottom rollers roll on a "post" guide.
Additional info: Turning the existing screws does not seem to do anything (don't visually see roller wheels go up or down). And one top roller tends to stick inside the frame (if I bang on frame with door out of the tracks using a screwdriver handle, I can make the roller pop back up). Could be that the sticky wheel is causing the imbalance and the rocking while sliding?
Photos of door, top and bottom now attached. Looked at door again last night. Bottom rollers seem to "sag", so that door just sinks down over the lower rollers, leaving the top rollers just barely engaged in the upper track. Thinking the springs may just be worn out?? The sticking roller was fixed - the screw was not attached, and so it was able to slide around inside and get locked up.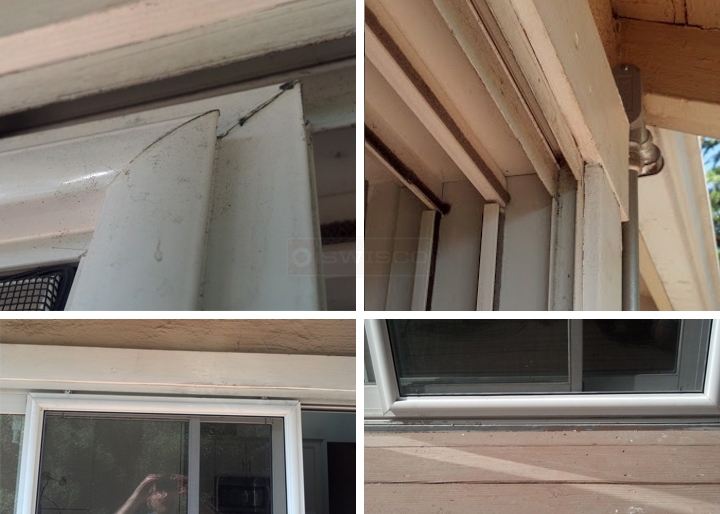 Dave Sr. from SWISCO responded:

April 23, 2013

Thanks for posting. You may not need new rollers. Try turning the screws on the rollers you have now clockwise and see if that raises the door. If not, you may need new rollers, but let's see if adjusting them fixes it for now.