Swing sash windows from Silverline
A home owner from Mahopac says:
August 30, 2017
Hello!
My Mother's house had "Silverline Swing Sash" windows installed when it was constructed in 1968; some of the spiral tube balances have been damaged over time and we are looking to replace them (note: this model has the shoe/foot attached). I have uploaded pictures of one, along with a picture of a window hinge that has also failed, which we need a replacement for. Dimensions are as follows (as near as my Mom could measure them!):
Tube material = aluminum
Tube diameter = 3/8"
Hole to hole distance = 9/32"
Tube length = 23"
Total length, with shoe/foot = 26"
Bearing appears to be white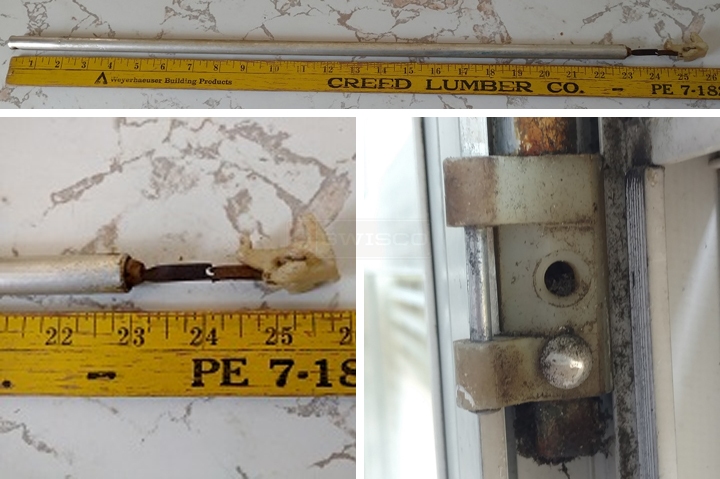 Paul from SWISCO responded:

September 6, 2017

Thanks for contacting us! These are very, very old Silverline swinger window balances, however I think we can still help. They'll just have to be custom made, since they're a bit obscure. I just need you to confirm a few things first.

You mention that the diameter of the outer tube is 3/8", but in my experience it's more like 5/8". Can you confirm?

There are also usually two different types of balance in this window. Did you only need the balance that uses the

15-024

shoe, or did you need both? Can you tell me how many of each you need?
A home owner from Mahopac says:
September 14, 2017
Hello Paul,

I will head back to my Mother's house in the near future to measure the tube myself with a micrometer caliper, and will also confirm the type and quantity of balances needed. Thanks very much!
A home owner from Mahopac says:
September 15, 2017
Hello again Paul,
I visited my mom today and took slightly more accurate measurements; here's what I saw:

Balance tube diameter = 9/16" (or 5/8" to the trade)
Hole-to-hole distance in the rod extension is approx. .9" or 7/8".

If this is a custom order, can you tell me what it would cost per unit? We would need three balance assemblies; all are configured the same and mount on the right side of the window frame. We also intend to purchase the replacement hinge, a dozen replacement shoes, the appropriate rivets, and three "lock sliders" (plastic slide mounted inside the top right of the lower window frame which enables you to release the window so that it can swing inward).

Thanks very much for your help and have a great weekend!
Paul from SWISCO responded:

September 22, 2017

Thank you! So just to clarify, you only need the balance shown in your pictures that has the shoe? You don't need the other side?

We will email you a custom order link for three of these immediately. If you need more, or a different quantity, let me know!
A home owner from Mahopac says:
October 6, 2017
Dear Paul,
I went to my Mom's house today and the custom balances fit perfectly! Thank you so much for your help.
Am I correct in assuming that the shoe attached to the balances was your part # 15-024?
If so, I'm going to purchase 10 more, as we have a number of balances with broken shoes that function correctly otherwise. I will also be purchasing 12 of the rivets needed for the shoes, 2 of the hinge assembly (part #
15-027
), the charging tool (part # 75-002) and, if available, the appropriate rivet removal and installation tools. Again, thanks very much for your inavaluable assistance and have a great weekend!
Paul from SWISCO responded:

October 12, 2017

Oh, that's awesome! I'm glad to hear everything worked out. Yep, the

15-024

is what we used. Let me know if you have any other questions, we're always here to help!