Thermal Gard Double-Hung Season-All Window - Spiral Tilt Window Balances
A quick learner from Washington DC says:
April 25, 2015
Hello, I am not sure which length and strength I need to install to replace the spiral tilt window balances in my Thermal Gard windows. As you can see from the photos, the existing balances are of varying lengths, which suggests that someone already did some repair work. One is 21" long, one is 22", and another is 25". These all came out of the same window. The 25" balance has a reddish brown end, and the 21" balance has a green end. The 25" balance came out of the front/bottom sash, and the shorter ones came out of opposite sides of the upper/rear sash. So the question is, which length and color is the correct one? The outer dimension of the sash height is about 25.5" if that helps.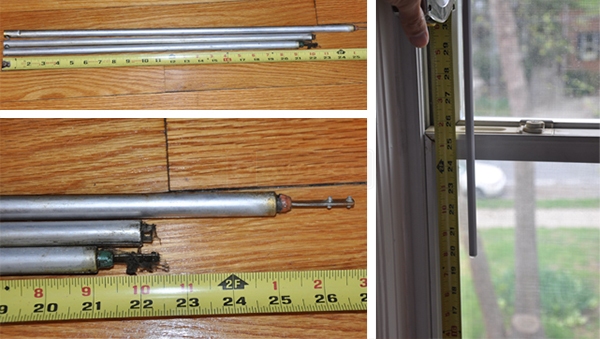 Paul from SWISCO responded:

April 28, 2015

Hello! It definitely looks like someone did some on-the-spot repairwork, yes. Do you have another Thermal Gard window in the house that is the same size? That would be a good point of reference, assuming all the hardware there is original.

If not, I will need some more measurements. Please tell me the height and width of the visible glass for both the top and bottom sash. Then, please remove each sash and place them on a scale, then tell me their weight. Knowing the size of the visible glass and the weight of each sash will allow me to determine what length and color bearing you need for your balances.
A quick learner from Washington DC says:
April 29, 2015
Hi Paul,

The visible glass on each sash measures 28 5/8" wide by 23 3/8" high. The weight is 18 pounds.

Thanks for your help.

Paul from SWISCO responded:

May 1, 2015
A quick learner from Washington DC says:
May 9, 2015
I poked around on your site a little more and found measurements for the
15-070
pivot shoe so I think I have answered my own questions and have placed a new order. I will be sending the pivot shoes from my first order back for a refund.
Thanks.