bottom window terminal pin octagnal plastic with metal pin to hook into the mechanical part to pull the window up or down
A home owner from chicago says:
May 8, 2018
when the window would not stay open I took it out of the frame and noticed that the plastic part at the side was missing. There is a small pin (size of a screw) that sticks out and fits into a hole in the inside portion of the window which is attached to a spiral piece that expands and retracts as you open or close the window - on the Pella site this item seems to be the terminal pin but I'm not sure of the name
Casey from SWISCO responded:

May 8, 2018

Would you be willing to show us a few photos of the hardware you are describing? We'd like to identify it and see if we offer a replacement.
A home owner from Chicago says:
May 14, 2018
I am missing one of these pivot bars and the window is slightly bent, wondering if you have the part and how I can install this myself preferably. Does it need any welding - thank you!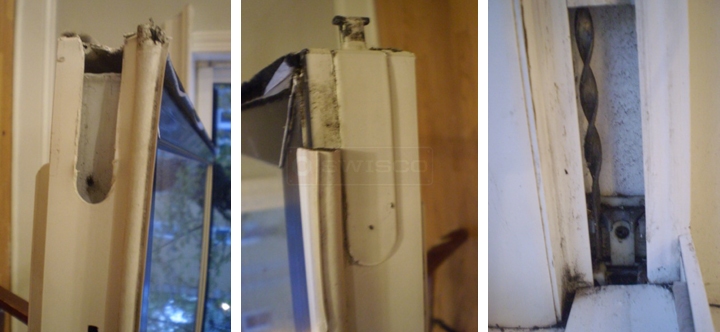 Casey from SWISCO responded:

May 18, 2018
A home owner from Chicago says:
May 23, 2018
got the parts and the larger one fit perfectly. I saw on you tube how to get the window on track and it consists of moving the shoe to mid sash but I can't get the shoe to rise - any ideas - I used a flat head screwdriver to turn the shoe as demonstrated on other window models but this doesn't work.
Tom from SWISCO responded:

May 29, 2018

I'm actually not sure what else you can do. The shoe is held in place in the frame by these bumpers on either side that extend when the center cam is turned towards you. When you turn the cam back to its upright position, those bumpers retract. There is no other way to free up a shoe. Make sure you're turning the cam to its original position when the window is in place.
A home owner from Chicago says:
May 29, 2018
I was able to get the shoe to rise using a large flat head screwdriver and WD40 - the window appeared to be operating properly as I was able to open and close and the window stayed open but when I went back to the unit this morning I was unable to open this window. My daughter had security protection on her windows but has moved and no longer subscribes but there are two "units" of some sort to the bottom left of the window, wondering if somehow the security could be keeping this window closed - hate to try to tamper with this again and before I do, wonder if this might be possibly locking the window.
Paul from SWISCO responded:

May 29, 2018

You might need new Series 600 spiral tilt balances. Do you have the charging tool, 75-006 ? If not, you can try needle nose pliers. Pull the spiral out of the pivot shoe to see if the spiral moves easily in and out of the tube. If not, you might need new balances. See our media guides for more information: