Spiral Balance sliding block and replacement parts
A quick learner from New jersey says:
July 10, 2012
I am interested in purchasing 5 pair of spiral balances and would like to be sure that all parts will fit the windows I am working on. There are two parts that I am checking on: The sliding part at the end of the spiral that the window connects to and the block at the end of the tube. The channels in my windows are ~1-1/8 inches wide (depth?). As soon as I am sure your balances will fit my application, I will purchase and ask they be sent quickly / overnight. Thanks for your prompt response. John

Tom from SWISCO responded:

July 12, 2012

Good morning, and thank you for contacting us! I hope I can help you find the parts you're looking for.

The first part you mentioned--the sliding part that the window connects to--sounds like it might be a

Pivot Lock Shoe

. Take a look through that section and see if that's correct.

However, the second part's description--the block at the end of the tube--also may apply to the pivot shoe. I guess I'm not really sure what part that could be. Could you take a few pictures of it specifically for me to look at, and perhaps identify? Thank you!

As for the

spiral balances

, were you looking to help us find replacements for those, as well? If so, I'll need a bit more information. First, I'll need to know if the window is tilt or non tilt. Next, please give me the diameter and length of the metal tubes. Finally, I'll need to know the weight of the window sash itself. You can find this out by removing the sash from the window and placing it on a scale. Any common bathroom scale should do.
A professional from Princeton, NJ says:
July 16, 2012
Hi Tom:

Sorry for the late reply, and thanks for your detailed response.

Yes, the pivot lock shoe is the part I was referring to. The other part (a block that the color button end fits into. The spiral goes thru it.) I do not have a picture of, but is probably just a stabilizer piece to keep the balance from buckling and/or knocking when actuated. If it is not necessary, I guess it can be eliminated.

Will have to get back to you with all the information you requested (weights) as I already have the lengths. All diameters are 5/8". Also, all windows are tilt-type. I thought the color of the buttons were representative of the spring type / load.

Thanks again for your response.

John
A professional from Princeton, NJ says:
July 17, 2012
Hello again, Tom, OK, here's the poop;
All 5/8" Diameter, all with blue tips (I would have thought that the color had something to do with the load capacity)
2 pair 30" carrying 17 lb sashes
1 pair 28" carrying a 15 lb sash
1 pair 29" carrying a 17 lb sash
Also need all new 15-046 pivot Lock shoes (8 total) All windows are tilt-type.
I would also like to purchase a tensioning tool, unless one comes with the order.
Here's pics of the other block I was talking about that stabilizes the tube.
Thank you for your prompt attention and help.
John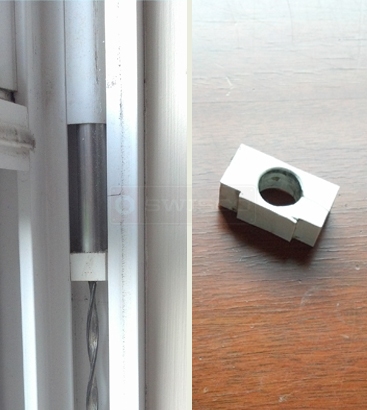 Tom from SWISCO responded:

July 17, 2012

Thanks for getting back to us, John! I recognize that block piece, now. That's what's known as a Single Hole Aligner. Please see our

26-139

and see if that will replace your own!

Now, for the balances. It sounds like you have our

Series 600

spiral balances. Does that look about right? Please look at our

S600-30

for the 30" tube, an

S600-29

for the 29" tube, and finally the

S600-28

for the 28" tube. I would keep the blue tip option for each one.

The color tips are, indeed, indicative of load capacity. The blue tip for the 30" balance can carry a window sash weight range of 12 through, and including, 31 pounds; the blue tip for the 29" balance can carry 12 through, and including, 31 pounds; and finally the blue tip for the 28" balance can carry 12 through, and including, 31 pounds. Just to give you an idea.

Please keep in mind that the weight range information is based on 2 balances per sash. Balances are designed assuming friction in the jamb weather-strip will carry a portion of the sash weight. Suggested sash weights are approximate.

Finally, we do have a charging tool for this type of balance, but it is sold separately. Please see our

75-006

spiral balance charging tool for tilt windows.