Anderson casement/crank out window
A handy person from willoughvale Inn says:
May 30, 2013
What info do you need? Numbers from broken crank? Numbers from somewhere in the window? WHAT?+ The maintenance man I don't have anymore has ordered from you in the past.
Tom from SWISCO responded:

May 30, 2013

Good afternoon! Pictures would be the easiest and fastest way for us to identify what you need. You can snap a few shots of the operator, preferably either removed from the window or at least open so that we can see the arms and base together. Alternatively, you can browse through our

Andersen Casement Operator Section

and see which of the ones we offer is the best match.
A landlord from Westmore, Vermont says:
June 4, 2013
I am actually and Innkeeper. We have a number of casement (crank-out) windows. I will take and send pictures of the particular ones that do not work correctly. Are there different sized crank systems based on the size of the window? or can I just order 3 or 4 systems to keep in reserve?
Tom from SWISCO responded:

June 4, 2013

Great! Pictures would definitely help.

Sometimes the lengths of the arms vary depending on the size of the window, yes. You can see all the different sizes in that section. Having a few spares might not be a bad idea, but it's up to you.
A landlord from Westmore, Vermont says:
June 6, 2013
No disrespect to you. I don't question your expertise, but I can ask questions and get answers more quickly if I can speak with someone than my low typing.
I am going to attach pictures now, I hope. The first and fourth are self-explanatory. The second shows we're missing a piece on the window lock for picture #1. The 3rd is a situation where we can't crank the windows closed enough to lock the the windows. These are both in the same casement.
I believe we need to shave down the wood trim where the bottom of the window meets the trim. I think the thickness prevents the windows from getting enough closed to engage the locks.
Now you have it! What's next? I also need 4 extra handles. Are different length screws for handles? I feel some of them don't tighten to "turning shaft" tightly enough.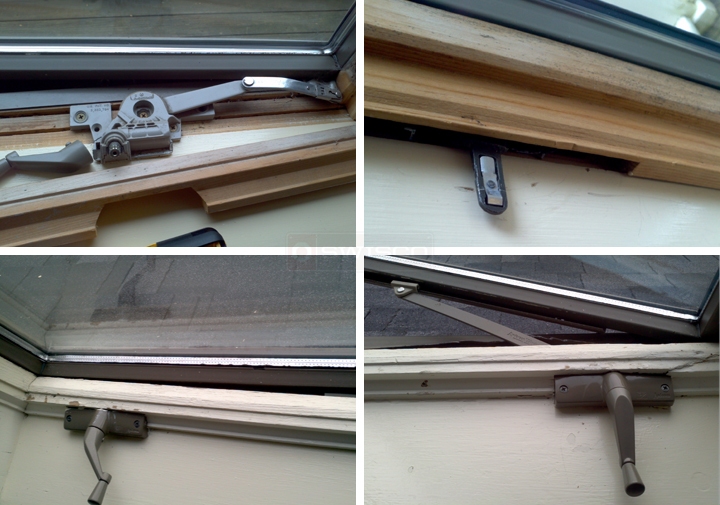 Tom from SWISCO responded:

June 7, 2013

These pictures are perfect! I have a couple parts you should look at.

Check out our

39-094

&

39-095

, as well as our

39-264

. These operators seem very similar to your own hardware, but carefully compare their style and dimensions to your own and see if you agree.

Now, for the sash that won't close all the way, I want you to try something before you shave the trim down. Remove the operator from the sill and try closing the sash manually, with the trim still in place as it would be normally, and see if it still closes. If it does, then the problem lies with the operator and replacing it may be all you need to do. If you still have trouble, then yes, you may want to see if something is obstructing it, like the trim.

Finally, for the handle, Andersen doesn't have any with different sized screws. It's possible your handles didn't fit on your operators because of age or wear. Our

39-286

works with our

39-094

&

39-095

, as well as our 39-264.

Let me know if you have any other questions!