PIVOT SHOE SASH SUPPORT
A contractor from Augusta, WI says:
September 4, 2014
Hopefully this has the photo attached.
Attached is a picture of the sash support of your Wilmar Dbl hung window from the
1998 era.
Tom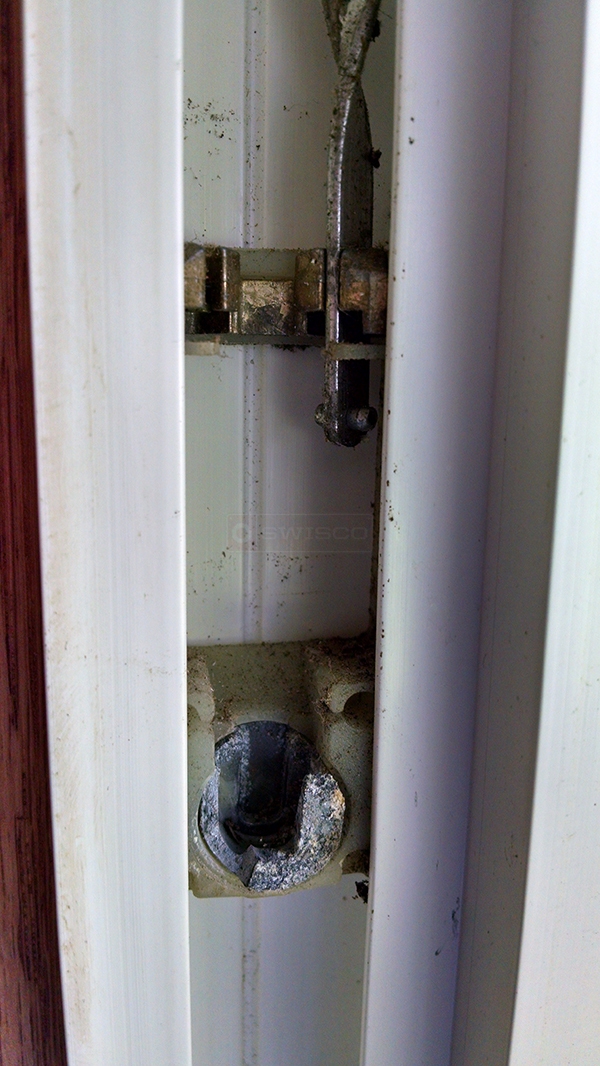 Tom from SWISCO responded:

September 5, 2014

Thanks for posting, Tom. You may have us confused with another company. We actually don't make windows, but we do sell replacement hardware for them.

We should be able to help you find a replacement pivot shoe, but I can't make out what it is. Can you confirm its width and thickness? Height doesn't matter so much, just those two measurements will suffice. It may be best if you remove the pivot shoe from the window before you measure it just to be sure you're as accurate as possible.
A home owner from Augusta, WI (property location) says:
September 5, 2014
This picture was sent to me regarding the Willmar Double Hung Window parts that have broken per the email from Tom, manager at the Augusta Lumber Yard (it has another name, but don't know if I should/could post the name).

I have been advised if I can find the needed parts, that I should also order spare parts. I would like to forward this response to the manager at the lumber company in Augusta, WI. Without his assistance I would totally be clueless. I realize that this company sells parts, but sometimes by asking about related needs someone in the industry knows of someone else, like replacement windows that might be available, too. Hopefully I can get the dimensions from the manager at the lumber yard, or possibly he already gave me the dimensions.

Please send me a direct email about the best way for me or Tom to contact me with the information that is needed. I am the owner of the house; Tom is the manager of the lumber yard. Both are in the town that posted as the location above.

Sincerely,


Tom from SWISCO responded:

September 8, 2014

I'm not familiar with the lumber yard you're talking about, but I do know that the best way to get us the information is to simply post here! Once we have the thickness and width of this shoe, we can suggest something.

In the meantime, you can browse through our

selection of pivot shoes

and see if anything here is a match.
A home owner from Augusta, WI says:
September 8, 2014
I have forwarded the message history to Tom, manager at Augusta Lumber. Hopefully he can assist further.

What is the price of a pivot shoe, presuming there appears to be one that will fit? What is the turn around time between order and receipt? Then the issue becomes finding someone who can/will install the pivot shoes. I need more than one, but am hesitant to purchase several until I know that two actually fix the problem.

So far I am happy that we are this far in the search, and appreciate your and Tom's helpfulness. I am the person who originated the question, and forwarded the photo I was provided.
Tom from SWISCO responded:

September 8, 2014

Pivot shoes vary in price, but you can visit the section I linked to above to get a general idea of what they may cost. Time between purchase and receipt of hardware depends on how you have them shipped. See our

Shipping Policy

for more information.

If I may ask, what exactly is the problem with your windows?
A home owner from Augusta, WI (property location) says:
September 8, 2014
The pivot shoe is missing, broken, per SWISCO response. There are no pieces left by the renters so the proper piece can easily be determined. All the windows in this house are from the same company, but some windows are OK in terms of the "pivot shoe." Will all windows have the same parts in the same size, or do the parts vary by the window or channel size? I intend to be at the property next Monday, so I can further compare the working window to those that look like the pic sent. However, there are some other problems with some of the windows caused by pets chewing on the window, so some windows will need to be replaced. It was suggested that if I found acceptable parts that I should purchase several of the parts eventually so I have them if needed.
Tom from SWISCO responded:

September 9, 2014

Ah, I see. Not all windows in the same house will necessarily have the same sized pivot shoe, especially if the tracks in which they sit are different sizes. We may be able to sleuth it out for you, though.

First, take a picture of the balances and pivot bars that are meant to attach to these missing pivot shoes. Please also give me your best estimation of the size of the track where these pivot shoes would install. Perhaps with this information we can make a few more reliable recommendations.
A home owner from Augusta, WI says:
September 9, 2014
Thanks for your assistance, it is greatly appreciated. Tom sent an email stating that he believed "the overall height was approximately just over 2" tall. Approximately 1 1/4 " wide and approximately 1/2" or 9/16" deep. It was difficult to measure, but I think the measurements should help."

I would forward his message, but sometimes it is easier than other times, dated 9/8/14 7:30 PM
I will check my notes that I took when he inspected the windows to see where the problems were, to determine if my notes might have any other details for a problem I have very little understanding of compared to both Toms providing assistance.
Tom from SWISCO responded:

September 9, 2014