1/2 in channel balance 23.5 inches long stews in top guide
A quick learner from Cape canaveral says:
September 1, 2016
In need of some assistance with my channel balance. Please refer to the attached photos for specification. Thank you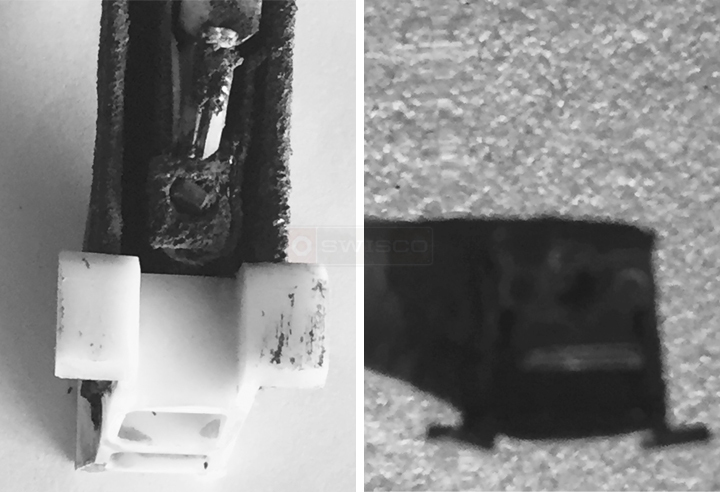 Paul from SWISCO responded:

September 6, 2016

Hello! Looks like you have an old Security window. We should be able to make this balance for you, though it will need to be a custom order. I'm thinking of our

15-005

and

19-042

as the two nylon attachments. Look them over and tell me if you agree. Before we begin on the rest, can you tell me what stamp is printed on the metal channel? If you don't have one, or if you aren't sure, we will need the weight of the sash, instead. I will also need to know how many you're interested in.
A quick learner from Cape canaveral says:
September 6, 2016
Looks like the right ends no stamps on the piece I cannot remove the sash but guess it weight around 20 # s
Tom from SWISCO responded:

September 7, 2016

Thank you for the update! I highly recommend getting the exact weight of the sash. Since we have to custom make this, it's important that the spring strength is calibrated correctly. These are precise systems and having the wrong spring strength can cause problems. We like to nip that in the bud and ensure that we get you only the exact hardware you need. See the video below for help on how you can remove your sash.

After we know the sash weight, the last thing we need to know is how many you need. Then we can get started.
A quick learner from Cape Canaveral says:
September 7, 2016
thanks,i replaced a lot of these counterbalance systems . Never had so much trouble getting a sash out . Got it out and it weighs 14.5 LBS . I need 2 but depending on the price might get 6 as it is my experience that they all kind go at once . Get me a price and well get this order done . Thank you for your help its rare to get any customer assistance these days . Your company always helps
Tom from SWISCO responded:

September 8, 2016

Great! We'll go with a 2320 option, which can carry 9 through 15 pounds. I'll send you a link for two of these, along with a price quote. If you'd like to adjust the quantity, let me know!