1950's Glass patio door roller assembly
A handy person from Los Angeles, CA. says:
April 1, 2013
I've attached pics of a roller assembly, roller and axel from a 1950's 8ft double slider (both sides open & close). There are no markings of any kind. The wheel is 1.25" in dia, .25" wide, and has a center hole of .25". the axle is 11/16". The main body of the assembly is 2 13/16" long and 1 3/8" tall. All four assemblies seem to be in good shape and probably only need new wheels, but I would possibly like to buy 4 complete assemblies if you can identify them (and have them). Otherwise I would like to know what the difference is between using a steel wheel and a stainless steel wheel, if I am to replace only the wheels? I am in the Los Angeles area, but not near the beach (if any of that helps). Thanx!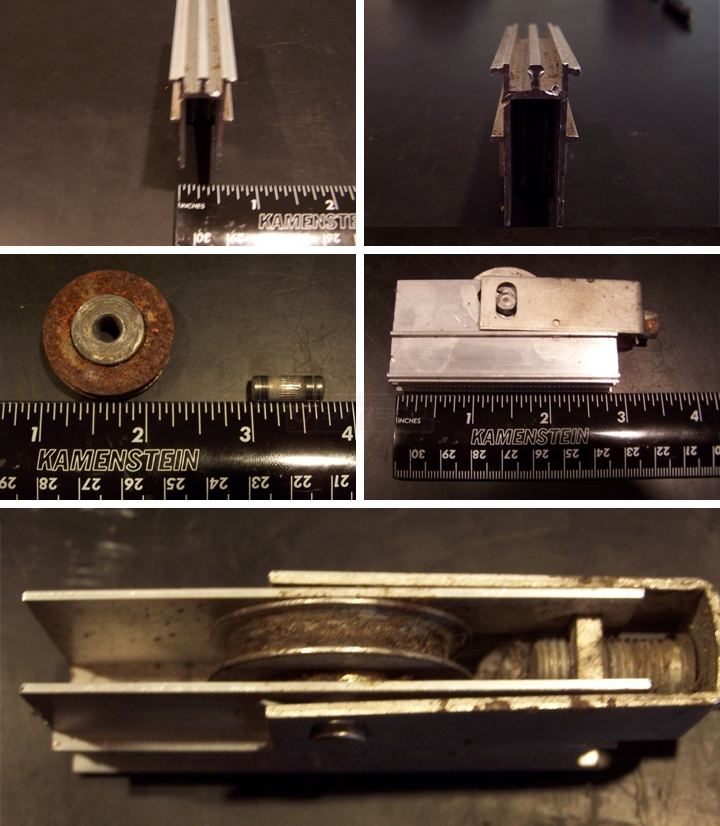 Dave Sr. from SWISCO responded:

April 3, 2013

Thanks for posting! Unfortunately, I don't think we have this exact assembly. I'm afraid that the best we can do is offer replacement wheels. Take a look at our

81-224

,

81-241

, or our

81-266

roller and axle kit.

The stainless steel wheel resists corrosion, but if you're not near the shore or if you live in an area that's relatively dry then you would probably be okay with the regular steel

81-224

.
A handy person from Los Angeles says:
April 3, 2013
It seems I've stumped every place I've checked with on finding this roller assembly. I ended up ordering the
81-241
wheels and the
81-304
axles. My only concern is that the new axles are tapered on the ends, but I guess I could reuse my existing axles if needed. The assemblies themselves seem to be fine, just the wheels are stiff. I'm over 50 yrs old too, and I'm also a little stiff in the joints. LOL. Thanks!
Dave Sr. from SWISCO responded:

April 3, 2013

Great! Yes, reusing the old axles is a good idea as long as they're in good condition. Let us know how it goes!
A professional from California says:
April 3, 2013
Sounds like a Bur-Val door. Most of them have Bur-val stamped on the outside handle.
81-250 should work.
Some models will fit a 3/4" wide roller that I like to use (not in your catalog), some rails are too narrow.
See picture to remove center screw port.
Viewed from top down.
Some have this type of notched interlock rail, some are flat.
Simply snap off with pliers.
Sorry for my meager Paint skills.