95-187 did not work for me
A home owner from Grand Rapids says:
April 30, 2015
I ordered 60 of
95-187
screen corners based on the CAD Drawing that was posted as 1 X .340 X 2.45" white plastic screen corners, posted by Larry august 31 2013. The part I need is the exact same part as that CAD print. In that conversation Donna from Swisco states that the
95-187
is shorted but should sill work. I agree, if the part length is shorter, no problem. But this part doesn't even come close to the dimensions on the posted CAD drawing! I need to know how to send the incorrect ones back and get the correct parts that match the CAD drawing.
Tom from SWISCO responded:

April 30, 2015

Sorry to hear you're having trouble. I'm afraid we had many many discussions and I cannot find the one you're referencing. We list detailed dimensions of each part on our site and we always recommend that you carefully look over what we show before you purchase, just in case.

In either event, you can return your corner any time you wish. See our

Return Policy

here for more information. As for what you need, can you show us a few pictures of your corner removed from the window? Can you also tell me its dimensions? I would prefer to see pictures of your part than a drawing, since there are many subtleties we can pick up on that drawings cannot reproduce.
A home owner from Grand Rapids says:
April 30, 2015
Tom,
I have included a picture of that CAD drawing and a copy of my part on the left of picture and yours on the right. The CAD picture tells you everything about my part dimensionally! The .385 dimension shown on the print is actually over .500 on the
95-187
. After reading more of the conversations on your site, it appears that Swisco doesn't carry this particular screen corner part. Lastly, you mention that you list detailed dimensions of each part, where exactly can those be found? At best case I was able to find very few detailed dimensions on your site and what I found weren't enough to determine if the part would work or not.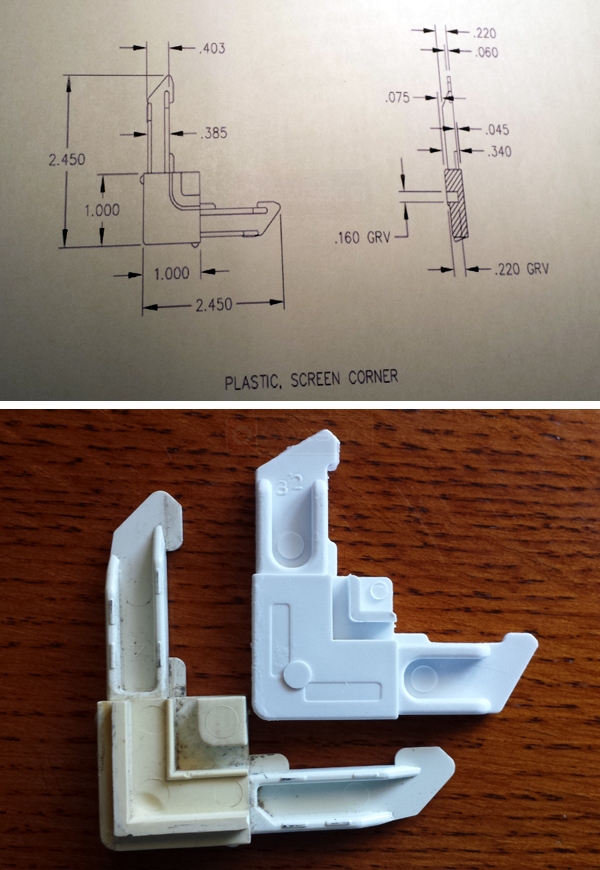 Dave Sr. from SWISCO responded:

May 4, 2015

I'm sorry our corner key didn't work. I believe your corner key came from a Canadian company call Bay Forms, which has discontinued their screen department. At this time I know of no one who carries this old hardware, and certainly no one who makes compatible parts. I do not think you will be able to find an exact match. I am sorry we cannot be of more help.
A home owner from Grand Rapids says:
May 4, 2015
Thanks Tom for your response back and the information you have provided. I will have to buy all new screen frames and corners to get what I need then. Thanks Again.