Acme Roller 4012X-1
A handy person from London NW3 says:
March 25, 2011
Could you please tell me if you have-or can trace-5 sliding doors rollers part No.: ACME 4012X-1 ? Thank you,Dr.A.Hahn
Mike from SWISCO responded:

March 28, 2011

Good Morning,

If possible, upload a few photos of the ACME 4012X-1 so we can take a look. We may be able to help you identify a replacement if we can see some photos with dimensions.
A quick learner says:
March 31, 2011
Thank you, I am attaching 3 pictures of the wheel, the diameter is 7 cm. I hope this helps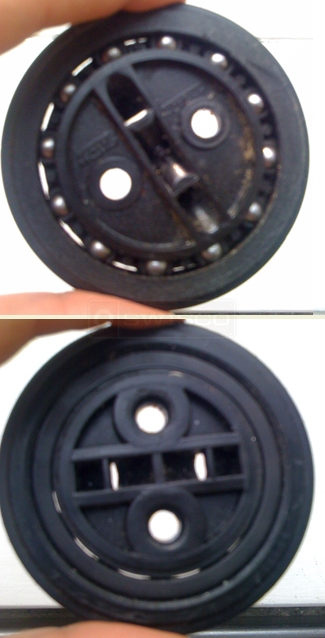 Mike from SWISCO responded:

April 5, 2011

Thank you for taking the time to submit your photos. Unfortunately, we are unable to identify the entire assembly by just viewing photos of the wheel.
A home owner from Lincolnshire says:
July 22, 2011
I too am looking to source one of these wheels, exactly the same wheel as your photos! I was wondering whether you had any luck and if so where they can be purchased please.
A quick learner from calgary alberta canada says:
August 5, 2011
Has anyone had any success?
Has anyone replaced the door and kept the good used rotors?
A handy person from Blackpool UK says:
September 28, 2011
Mike, The photos submitted by A quick learner:
March 31, 2011 IS the entire assembly. The rest of the "assembly" is the door! Does your company have any access to these fittings?
A home owner from surrey,england says:
November 2, 2011
hi,did anybody find this roller anywhere,as i am looking for the white plastic insert which slots into bottom rail,
any help would be appreciated
A quick learner from Northern Ireland says:
January 14, 2012
Hi, I am also looking for one of these wheels if anyone has been fortunate enough to locate a source for them could they please let me know. Many thanks
A handy person from toensberg Norway says:
April 1, 2012
has anyone had any luck, I am also in need for a Wheel like this
A contractor from northern ireland says:
September 5, 2012
Hello to all. i to am also searching for the acme 4012x-2r and 2l corner mounted roller wheel, or even a different type that could be altered or modified to do the same job. any suggestions would be great.

A handy person from Ashford Kent says:
September 12, 2012
Has anyone found a supplier for the Acme 4012x-1 roller foe a mirror door sliding wardrobe Please?
A home owner from surrey,england says:
September 19, 2012
hi,the wardrobe doors in wickes have a different roller,but these are compatible to the doors