Alcoa Window will not stay open
A landlord from Saint Louis, MO says:
March 4, 2013
We have some Alcoa windows with the number 2093 on the glass panes. They will not stay up when opened (one actually falls hard).
I am looking to replace the parts that will hold the window in the open position.
Tom from SWISCO responded:

March 5, 2013

Thanks for posting. It sounds like you have a problem with your window balances. I'd be happy to tell you what you need to replace them, but I'll first need to know what balances you have installed in the window.

If you can, please remove the balances from the window and take a few pictures of them separately, then upload them here for us to see. Alternatively, you can look through our

Support Balance Hardware Section

in order to find the correct balance for your window.
A landlord from Saint Louis, MO says:
March 19, 2013
here are some of the photos taken. Due the home is in process of selling, I did not want to start tearing everything apart so hopefully these photos work.
The plastic sleeve fell apart while trying to remove the rod.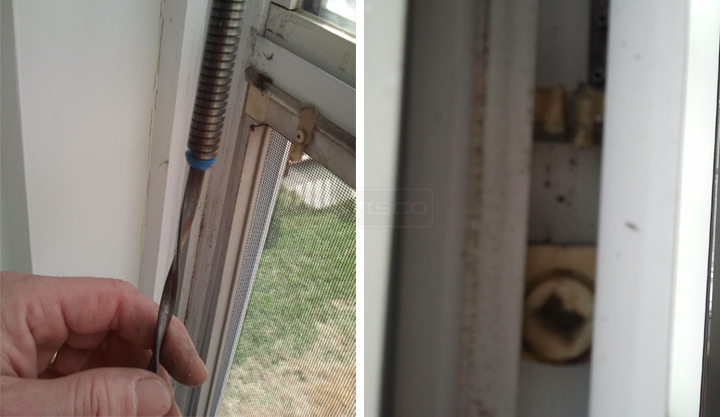 Tom from SWISCO responded:

March 20, 2013

I think those pictures are just what we needed to see! Looks like you have

tilt window spiral balances

. Take a look at that page and see if it looks about right.

You're in luck here. If your windows are dropping and you have spiral balances as your support system, you may be able to simply re-charge the spiral instead of replacing the whole balance. Take a look at the video below, which shows the proper way to replace these balances. It also shows how to charge the spiral. You can use a tool like our 75-006.

See if this does the trick for you. If you're charging the spiral but feel no tension, then it's likely that it's shot. In that case, you would need to replace the balances. One step at a time, though! Let's see if charging them works for now. If it doesn't look good, let me know and we can work from there.
A landlord from Saint Louis says:
March 27, 2013
Thank you for the information. It did work on all windows other than one window has the pivot shoe broken and will not hold the rod in.
I have equipment to replace it but want to ensure I order the proper pivot shoe. 15-045
Here is the picture. It is 2" L x 1" W x 9/16" D.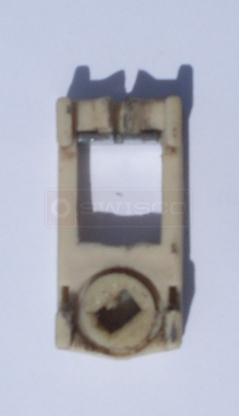 Paul from SWISCO responded:

April 5, 2013

Great! That image is a huge help. Take a look at our

15-173

and see how it matches up to your hardware.