Allen Stevens patio door roller
A professional from columbia sc says:
June 27, 2012
I have an Allen Stevens single wheel roller part number 6049 that I'm trying to replace. I saw a comment on a web site that suggested your part
81-005
, but that's not the same part. Can you help me?
Thanks,
Dave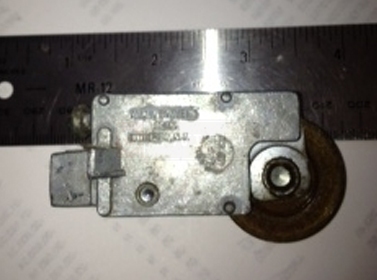 Dave Sr. from SWISCO responded:

June 28, 2012

Thanks for contacting us, Dave! Actually, what you have is an earlier version of the

81-005

. Your roller was a very common roller in its day and was used by many manufacturers. Based on your area, I think your door may have been made by Moss. I, myself, have repaired this door using the

81-005

. Compare its dimensions with your own hardware to see if it'll work
A home owner from northern Virginia says:
August 7, 2013
My 30 year old sliding glass patio door rollers are shot. I just got one of the little buggers out, and it is an Allen Stevens 8314, which looks just like the 6049 mentioned earlier. Your Swisco
81-005
seems to be almost the exact same dimensions, except for the 15/16" flare. That's almost an inch. Mine's maybe 5/16". Was that a typo? None of the replacement rollers avaiable from Home Depot or Lowes work. Please advise.
Ron
Tom from SWISCO responded:

August 8, 2013

Hey, Ron. The 15/16" flare width is from the tip of one flare to the tip of the other flare on the other side of the housing. It sounds like you're just measuring the size of one flare, unless your housing is less than 5/16" wide! Double check and let me know what you come up with.
A home owner from D.C. VA. 'burbs says:
August 9, 2013
Y'know what? I really have no desire to take the stinking door apart again just to check that out. 15/16" on my tape rule looks close enough for government work to what I remember before putting everything back together again. I think the 81-005is what I need. Why did they keep changing the model #s when they all look the same? Thanks. Gonna order some and cross my fingers.
Tom from SWISCO responded:

August 9, 2013

I know how you feel, actually. In this industry, one business is always swallowing up another, and products exchange hands constantly. Sometimes it's hard to keep track of who has what. I hope this works out for you, though. If not, please let me know, and we will try to help you as best as we can.