Allen Stevens roller 6830
A quick learner from Norman, OK says:
February 12, 2018
Hi, I have 3 sliding doors that needs rollers replaced. These are old single pane glass doors with an Allen Stevens roller hardware PN # 6830. They are apparently put of business. You have a picture of one in your customer inquires. It is only 11/16" wide , the top mounting screw is 1-7/16" in from the corner edge. Total length is 3-1/2", height is roughly 1-1/16"-1-3/4" high from the the lowest to the highest adjustment. It does not mount on the front channel - I'll have to drill a hole in the frame if it needed. It did have a 10-32 screw "though" the frame at the bottom of the glass and into the top of the roller carriage. I will try your complete replacement set upon your confirmation they will work; 2 each of these replacement parts;
81-023
- sliding door roller 1-1/4"steel concave with BB.
33-103
Phillips flat 10-32 x 1/2".
33-104
Phillips 1/4"-20 x 3/4" machine screws (Will even need these? Will this cause the door to remain away from the jam by the thickness of the screw head? Do you have a return policy? If this fits I"ll order 2 more sets
Casey from SWISCO responded:

February 12, 2018

Before you go ahead and place an order with us, we really would like to see the rollers you have been using. We just want to make sure you are ordering the correct replacements for what you have.
A quick learner from Norman, OK says:
February 12, 2018
I had to drill out a screw head from the top down to remove the 1-1/4" single roller carriage. But once out it was easily unscrewed with a vice grip. Its a Allen Steven 6830 which has 2 wedges that nested inverted upon each other and push the roller down as the adjusting screw is tightened. Tt has no pivot point for the roller to tip down like the current systems. This means the whole new roller carriage (including the roller axle) must fit within the 11/16" clearance of the lower rail. I want to confirm this
81-023
will work as a replacement. This double slider set up actually uses two complete sets of single pane glass doors (one a storm door). Also note this roller carriage is mounted from the top down and if I try to mount it from the front vertical door glass aluminum extrusion the screw head will be stick up and keep the glass frame from fully cuddling or embedding in the frame mounted to the house. I have more pictures if needed.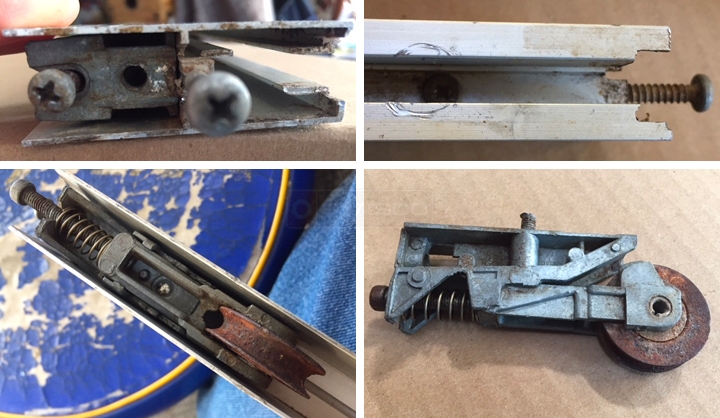 Tom from SWISCO responded:

February 16, 2018

Thank you for your patience. This looks similar to our

81-002

, and also measures 11/16" wide. Could you possibly use this as a replacement?