Aluminum window channel balance
A quick learner from USA says:
August 15, 2016
This is an aluminum window frame and it is a non-tilt window. It is a 1/2 inch channel and the channel is 22 inches long. The part number (in photo) looks like 2140.
The Channel Balance Assy looks like a 350 or 351 series. The Channel Balance top looks similar to a 1902 and is 1 1/4 inches long. As you can see in the photo - the window channel balance almost looks like it may have had a wider wing on it at one time (not sure).
The Winged Channel Balance Shoe is similar to a
15-005
except the 1.00 inch depth (ref Channel-Balance-Shoe/pd/Replacement-Sash-Support-Channel-Balance-Shoes/15-004) measures slightly under 15/16 inch. This may be wear - not sure.
Can you please confirm the correct end parts and Channel Balance Assy so that I can order the correct one?
Thanks for your help.
Tom from SWISCO responded:

August 15, 2016

Thanks for posting. I'm afraid your images didn't come through, but based on your description it sounds like your bottom shoe is just worn down. We actually don't have any shoe with a depth less than 1", so the

15-005

would be the closest match we have, regardless. In a worst case scenario, you could always just shave it down a bit.
A quick learner from Centerville, UT says:
August 15, 2016
Thanks for your help - that is very good advice. Thanks!
I wanted to try again to attach those photos. I am attaching a photo of the part number on the Channel Balance, and a photo of each end (the Channel Balance Top, and the Channel Balance Bottom).
Could you please confirm the Channel Balance Assembly number that I could order to make sure I received the complete assembly?
Thanks again for your help.
Richard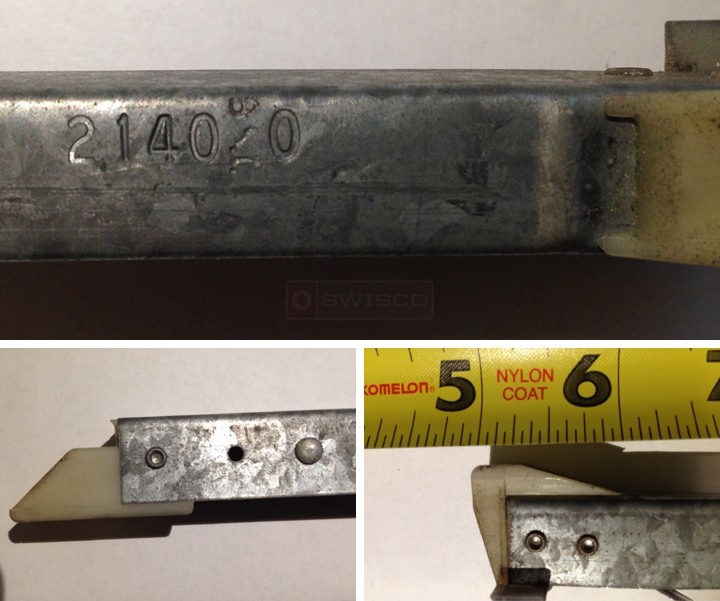 Tom from SWISCO responded:

August 17, 2016

Thanks! I think our

Series 350

looks like it could be a very good match. Just go over our information to be sure.
A quick learner says:
August 25, 2016
Thanks again for your help. I wanted to forward 1 more photo and ask one more question before ordering. And I apologize for not providing this information earlier.
I believe I am looking for a 1505 Winged Shoe, and a 1902 top. Does this seem non-standard?
I may have misidentified one of these end fittings.
This last photo shows the measurement "depth" being approximately 7/8 - 15/16 depth (possibly worn down from 1 inch). I am also attaching another photo of the Top (which looks to me like a 1902).
The Shoe in the photo looks closer to the 1505 Shoe to me, and there seem to be only 2 winged shoes in that size. The 350 Channel Balance Assy seems to have the 1504 Winged Shoe. The 380 series seems to have a different top (1905 top) - so what would be the correct Channel Assy with the 1505 shoe?
Thanks again for your help.
Richard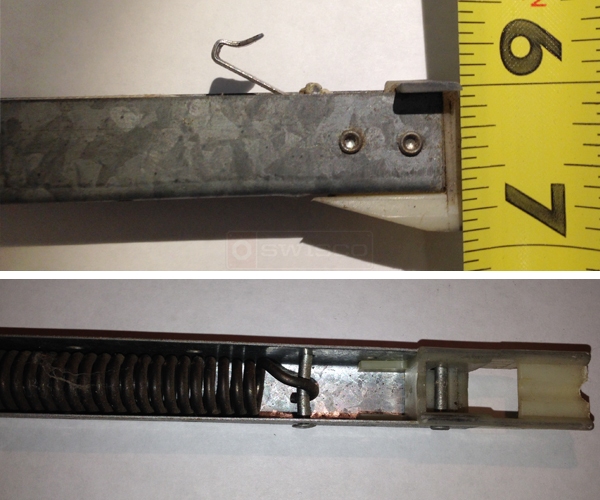 Tom from SWISCO responded:

August 26, 2016

Ah, I see. You may still be able to use our

Series 350

channel balance, but you may need to shave a little off the shoe. Alternatively, you could use the

Series 380

balance. It may work even though the top has wings, and in a worst case scenario you can clip them off. Alternatively, we can simply make the

19-002

and

15-005

combination balance for you, but it would need to be a custom order. Let me know how you wish to proceed.
A quick learner from Centerville, UT says:
August 31, 2016
Just a quick note to follow up and say "Thanks".

The first set of channel balances arrived, and I installed them on the first window. They fit and work perfectly, and moves up and down like magic now. I have now ordered another set for a second window.

Thanks again for your help.


Tom from SWISCO responded:

September 1, 2016

Glad to hear it! Thank you for your business, it means a lot. If you ever need anything else, we're always here to help.