Atrium Door nylon adjuster lever
A home owner from USA says:
August 27, 2014
I have an older (25 yrs) "The Atrium Door" brand screen door that has a broken nylon adjuster lever (internal to the door) and broken spring wheel.
I think I found the steel wheel in the
84-006S
, but I don't see a replacement adjuster assembly. From the products on your website, it looks like I may have to take the corner apart to replace the assembly. Do you have such a replacement assembly? How would I go about finding one? Do you have instructions on how to replace a corner bracket adjuster if that's what is in there
Dave Sr. from SWISCO responded:

August 28, 2014

It's hard to say which part to recommend for you patio screen door. I would like to see your roller, corner or both out of the door, including dimensions. Hopefully the parts for your door are still available, but I won't be able to tell without seeing your hardware. If they're not, maybe we can recommend a substitute.
A quick learner from Massachusetts says:
August 28, 2014
I took some pictures, but I haven't taken the corner apart until I know if I can find the parts. I think the channel is 1" or 1-1/16" where the corner bracket will fit into it. Measured from the outside it appears to be 1-1/8". The steel roller measures 1" (possibly 15/16"). In the picture you can see the broken nylon lever that adjusts the wheels. If there is an alternate part that fits into the opening underneath, maybe that will work?
Thanks for your help.
Bob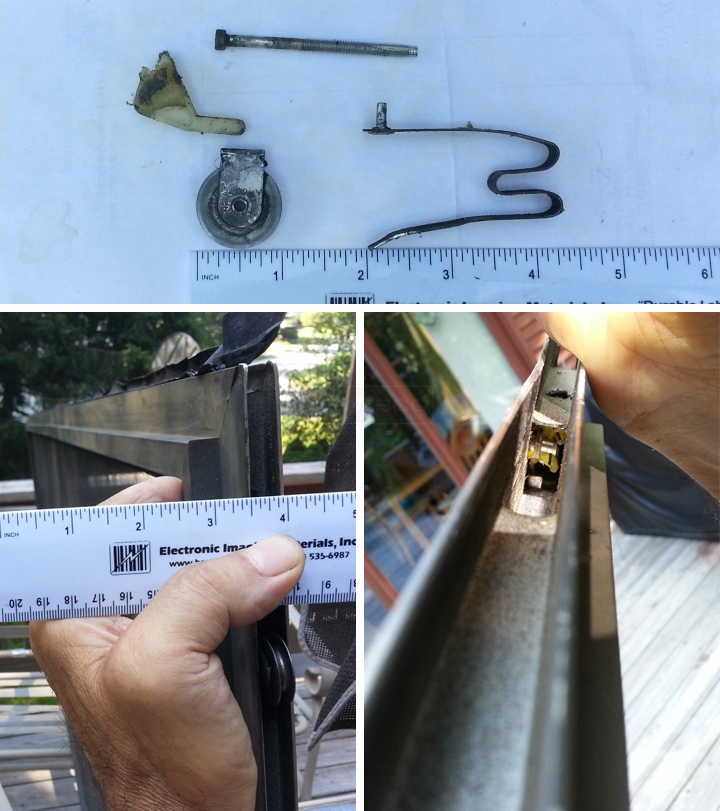 Paul from SWISCO responded:

August 29, 2014

In situations like this, I've seen many service people use our

84-031

roller and

84-506

adjusting screw instead of taking the door apart. They enlarge the hole where the old roller pin was with a 1/8" drill bit and then screw in the adjusting screw just enough to stick in the cut out out for the wheel. After that, you would install the

84-031

roller and have it catch the screw tip in the spring hole. Do you think this method could work for you?
A quick learner from Massachusetts says:
August 29, 2014
I like your solution and it might have worked for some screen profiles, but not this one. I'm not sure if you can see it in the photo, but the screen channel is directly above the hole - mostly blocking it from above. I don't think that solution will work because the screw would be blocked by the screen channel.
Do you need any additional measurements to see if there is a solution?
Thanks,
Bob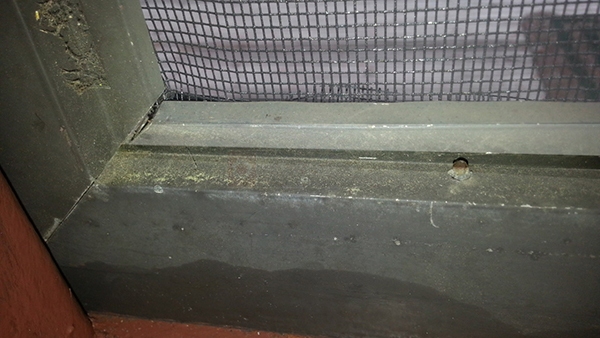 Paul from SWISCO responded:

September 4, 2014