Balance Box Replacement
A quick learner from Rhode Island says:
July 16, 2013
We are trying to find the right replacement balance box for Anderson Narrow Line windows. The glass on the double hung window measures 28" x 56". We've taken out the top guard piece to reveal the original balance boxes. Unfortunately the numbers printed on these boxes are very hard to read. There is one code on the upper right corner of the box that reads: 11600-17. Another code on the lower right corner of the box is harder to read. We think it is E34 931 136 but it is hard to be sure. I don't see any balance boxes on your site with either code. Can you help us determine which boxes would be right to order?

Thanks very much!


Paul from SWISCO responded:

July 16, 2013

I think you might want to consider our

24-939

Andersen sash balance. This can replace balance boxes with the stamp 931.
A quick learner from Rhode Island says:
July 16, 2013
Thanks for getting back to us. A couple more questions tho.

Apparently, my parents had ordered a set of replacement balance boxes a number of years ago. These boxes are labeled with the numbers "731D84 09 06" and "R12 827 P53". There are a number of windows in their house that need the balance boxes replaced and they aren't sure if these will work for the window I wrote you about initially. Unfortunately, these numbers don't seem to correlate with any of the numbers on your site, so we aren't sure how to tell which windows they might work for.

Re: all the other windows that need balance boxes replaced, we wonder if there is a way we can give you a list of their measurements and you can tell us which balance boxes we need to order for which windows.

Sorry for the multi-part question. I should have asked all this up front.

Thanks for your help!


Tom from SWISCO responded:

July 17, 2013

No problem! Unfortunately, we can't determine what balances you need based on window measurements. Knowing those stamps are the only way.

As for these two new ones you mentioned, we may be able to help. Now, I can't see how the numbers are printed, so it's hard to say, but I think the key numbers here are "731" and "827."

As you can see from our

Andersen Sash Balance Section

, there are two balances that can replace those stamps, respectively. Check out our

24-737

and

24-837

.

Again, seeing how the numbers are printed would give me a better idea, as sometimes the important numbers are a little more prominent or stamped differently, so I cannot guarantee that these will work. I think they're the best place to start though.
A quick learner from Rhode Island says:
July 17, 2013
I'm attaching a picture of the replacement balance box we have in hopes that you can tell us whether it is comprable to the
24-737
or the 24-837.
Thanks so much!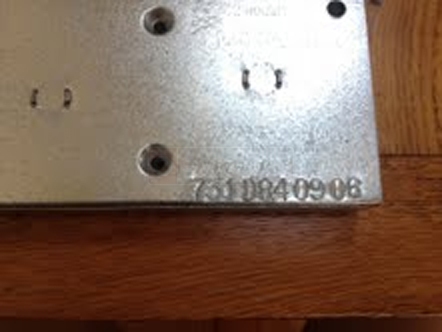 Tom from SWISCO responded:

July 17, 2013

For that stamp, I would go with our

24-737

.
A quick learner from Rhode Island says:
July 24, 2013
Hi again,

We have some other windows of different sizes that we would like to order replacement balance boxes for.

Some of the windows have balance boxes with the code:
D52 7#31-86

And some of them have the code:
BP10 12#31 6-85

Which balance boxes would you recommend we order as replacements?

Thanks so much!