Balance VS Shoe
A home owner from Reading, Pa. says:
March 5, 2012
Hello. I am considering fixing my vinyl replacement windows as apposed to getting brand new ones. From looking at your videos, replacing the spiral balances looks like something that I could accomplish. However if the problem were to actually be the shoe as apposed to the balance, I might have a problem because there is no cut out. I would not really want to take on the job of making cut outs for all of my windows and even if I WERE to cut them out, I would be cutting away the support for the window stops because they are attached to the same place that I would have to cut out.
So, I guess my question is this, when a window is difficult to open and close and it also won't stay open, is the problem more frequently the balance or the shoe?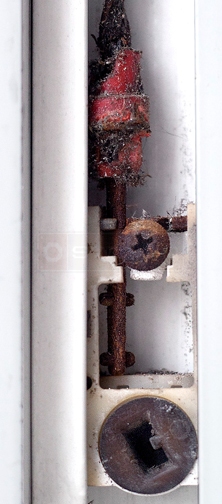 Paul from SWISCO responded:

March 5, 2012

Thanks for posting. Usually, the balance is the one that goes before the pivot shoe.
A home owner from Reading, Pa. says:
March 5, 2012
Based on my 5/8" tube width and 25" tube length and red tip, I'm thinking that I want the S600-25
Am I correct?
When I look at your replacement shoes, I don't see any that look like mine, which as you can see has a screw in it. Will your
S600-25
work with the shoe in my image?
Thanks!
Paul from SWISCO responded:

March 6, 2012

That description certainly matches a

S600-25

spiral balance with a red tip. Just make sure that you double check your measurements. For your pivot shoe, take a look at our 15-046 and compare its thickness to your shoe. Do you think that would match?

Regarding the screw, you have to remove it to take out the balance, then reuse it when you install the new balance or pivot shoe.