Balance end replacements
A quick learner from North Port, Fl says:
October 2, 2012
We have windows that are 8 years old supplied by Norandex/Simonton. At least one of the plastic ends broke and the balance popped out. It is stamped 3519DS and is 37".

We are not sure which ends are the correct ones to order. I guess there are to many combinations that look similar. 380 or 385 look the closest. Do you need more info?

Sam
Tom from SWISCO responded:

October 3, 2012

Thanks for posting! I wouldn't be able to say what you have based on this information. I think I need to see a few pictures of your attachments just to be sure. Please remove your balances from the windows and snap a few shots of the top and bottom nylon attachments, then upload them here to this thread for me to look at.

Please also confirm that the metal channel is 37" long. Make sure to not include the nylon attachments in this measurement.

Finally, I will have to know the weight of your sash, as your stamp of 3519DS does not match any of our existing options. To determine your weight, remove the sash from the window and place it on a scale.

Thank you for your cooperation.
A quick learner from North Port, Fl says:
October 4, 2012
Tom,
Thanks for replying. The weight of the balance is 1 lb - 5 oz.
If you need the weight of the window, I will need to get back to you with that, but since I am interested in replacing the plastic ends of the balance,is it necessary?
Attached are the pictures and the broken parts. I have more pictures of different angles of the ends if you need.
Hope you can help with this.
Sam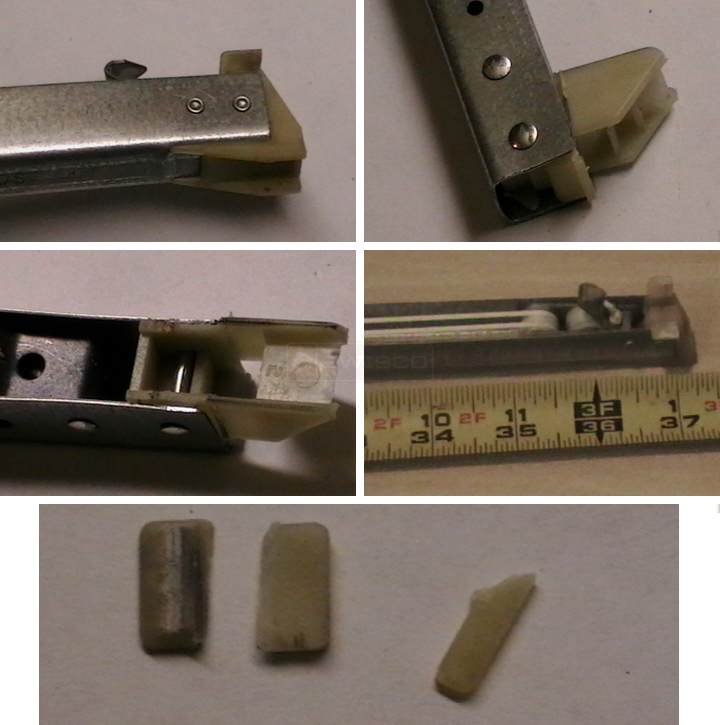 Tom from SWISCO responded:

October 5, 2012

Thanks for getting back to us. If you're only replacing the plastic attachments and reusing your metal channel, then we will not need to know the weight of your sash, no.

Speaking of those plastic attachments, I'm not quite sure what you have exactly. Starting with your top attachment, it appears to be our

19-002

. However, I see that some bits of plastic had broken off. Were those, perhaps, wings that once protruded from either side of the top attachment? If so, then I think that the

19-005

would be a better choice. Let me know.

As for the bottom shoe, just eyeballing it makes me think it might be our

15-005

. However, you may also want to take a look at our

15-004

. These two shoes may look similar, but as you can see looking at their dimensions, they have different depths; 1" and 1-3/32", respectively. Which one more closely resembles your own shoe?

Finally, you may want to watch our video tutorial on how to replace the plastic attachments on your channel balance.