Balancers for 35LB sash
A quick learner from California says:
October 4, 2013
Hi there,
I have a few windows made by Phillips Stayton with the balancers brocken.
THe blancer code as you can see in the picture is 26 9 but I doubt there are correctly choosen.
Please recommend the corect spring tension for the 35Lb sashes. I want to mention also that the window is very thick. As yoy see from the picture there are suppose to be 2 balancers on each side of the sash.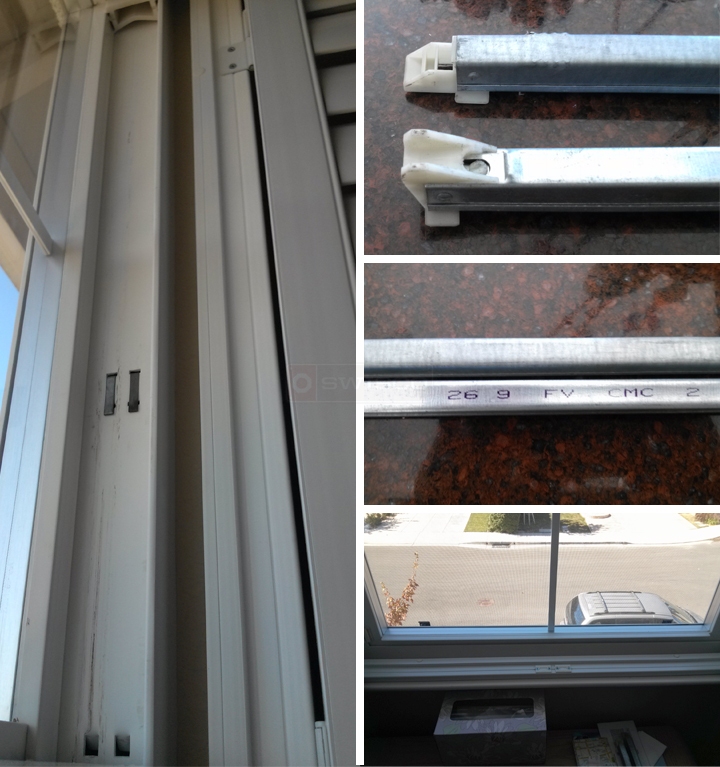 Tom from SWISCO responded:

October 4, 2013

Hey, thanks for posting. We don't have any 27" channel balances that can support 35 pounds. Can you confirm that weight? If that's correct, it will have to be custom made.

Before we begin on that, though, I need to figure out what Series you have. I've narrowed this down to two possible channel balance Series: either our

Series 380

or our

Series 385

balances.

Now, as you can see, there is only one difference between these two Series, and that is their bottom shoe. The

Series 380

uses the

15-005

while the

Series 385

uses the

15-004

. I can't quite tell what you have based on your pictures, though. Please carefully compare their dimensions to your own hardware and see which is a better match.
A quick learner says:
October 7, 2013
Hi Tom,
Thanks for getting back to me regarding my problem.
The weight of the sash is correct at 35Lb. How I mentioned earlier the window is very thick, I have at least 2 inches in between the glass layers.

Probably this is the reason why the manufaturer designed 2 balancers on each side of the window, a total of 4 blancers per sash. I did not have the 4 balancers installed though, all I had was the one from the ewarlier picture.
My question for you is what power balancer should I use if I want to use 2 on each side?
Tom from SWISCO responded:

October 17, 2013

Aha... I see. I missed that. These windows are weird and very uncommon. Although, coincidentally, we had another customer just recently who had the same kind of set up, so maybe they're not as rare as all that. Regardless, we have a couple ideas.

Now, we do have a balance that can support 35 pounds using just a pair, rather than four. However, it would have to be custom made. Plus, I can't really guarantee that it will work for your weird window. It may be worth a shot though. If the springs can support the sash, then I can't really think of a reason why it wouldn't work. It just wouldn't be ideal.

Now, custom made balances cannot be returned for a refund, so let me know if you want to go that route. If so, I will need you to confirm what Series you have and we can work from there.