Bayform Screen Corner
A home owner from Fenton, Missouri says:
November 19, 2011
Needing to acquire replacement part to rebuild my window screens. Believe the screen frames to be 3/8" x 3/4" roll formed outside flanged screen frame, Bayfrom part BARB38L. The plastic corners are marked with BAYFORM on one ear and the following on the other, DP307078 RD63647, with the markings on the taller leg. It appears that the SWISCO
95-205
corner connector might work. Is there any way that you can send me one to try or that i can buy to confirm this? I will be looking to buy about 100 corners.
My screens are also equipped with 1-7/16" long aluminum Plunger Latches to hold the screen in the window frame.The grasphing part of the latch is 7/16" long. Are these latches reusable and if so how do these Plunger latches come apart as i have to remove them to replace the screen material?
Thank you,
Joe P.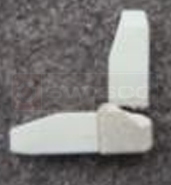 Paul from SWISCO responded:

November 23, 2011
A home owner from Fenton, MO says:
December 8, 2011
Can you please tell me the length of the flange portion of SWISCO
95-205
screen corner AS MEASURED FROM THE BOTTOM OF THE EAR THAT SLIDES INTO THE FLANGED SCREEN FRAME. Is this 5/16 of an inch?
Do you have 3/8" x 3/4" with an External 5/16" Flange screen frame available that fits the
95-205
screen corner?
How do aluminum plunger latches come apart?
I await your replies before submitting my order.
Thanks
Paul from SWISCO responded:

December 9, 2011
A home owner from Massachusetts says:
May 14, 2012
I have a Bayform plastic screen corner #RD63647. I can't seem to find any online. Did the
95-205
part work for you?
A quick learner from Fenton says:
May 26, 2012
Yes, the screen corners worked for my application. The photo that i attached is incomplete and if you wish to contact me at pisark@wans.net i can explain, just so you have a clear understanding of my application and to determine if the corner would be usable for your application.
Thanks,
Joe P.