Benchmark Closet Door Hardware
A home owner from Atlanta, GA says:
November 16, 2011
Please help me identify what these parts are called in photos. The bolts are 5 3/8" long; track is 3/8" (inside diameter); benchmark is the manufacturer; they are said to be floating--not so at this time; hardware about 50 years old. Problem is lots of bits and pieces of part componets are missing and/or in the wrong place so it is difficult to fix properly as every top/bottom/pivot or floater side fittings are different configurations. There must be a complete "set" left-hand and right-hand pivot as well as an inside centerline edge, top and bottom floater bolt. Hope these photos show details of all the metal washers, lock washers, wing washers, spring, plastic pivot bracket and collars, center bottom bumper etc so you can put these closet doors back together again. Thanks, Joyce
From previous:
I have the 93" Benchmark Bifold closet metal door BOTTOM guide pin, which is 5 1/4". Your part
21-033
is the closest looking part, but shows that it is 5 5/8" long. Am I ordering the correct part for my closet doors?
House is 50 years old so maybe length has changed over time. Also, there is a metal nut and lock washer instead of the plastic end piece shown on your diagram. If this is the correct part, then what are my specific choices for the floating TOP guide pin?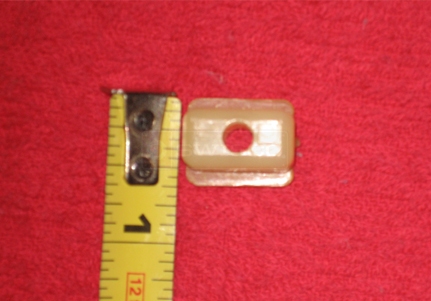 Paul from SWISCO responded:

November 21, 2011

Thank you for posting. Unfortunately, I'm having a little trouble identifying exactly what it is you will need. Can you please post a picture of the door track, with any applicable dimensions?
A home owner from Atlanta, GA says:
November 22, 2011
Paul,
Rec'd your email asking for more closet "door track" info, so sending these. Track is 3/4" o.d. wide; the i.d. looks to be about 3/8" canal. The length of closet opening is approx 47" but the other closet opening is 47 1/2". Old house so nothing is standard. As I said before, mostly interested in getting 2 complete (wall side) pivot-top and bottom components as well as the 2 floating components (ones at edge of centerline)-top and bottom. Thanks, Joyce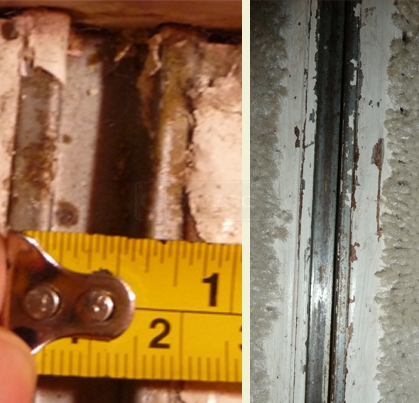 Dave Sr. from SWISCO responded:

December 6, 2011

I'm trying to think of the best replacement hardware for your Bifold Door. It could be a very old Benchmark. I did some service work for an apartment complex who had doors very similar to yours. I believe I changed over the hardware and pins to benchmark hardware.

Take a look through our

Bifold Door Pin Assembly

section and note the products with "Benchmark" in their title. That would be the best place to start.
A quick learner from Atlanta, GA says:
December 6, 2011
12-6-2011
Paul & Dave,
Please read again my discription of of parts I need help to purchase to make my 50 plus year old bi-fold closet doors to work.
I ordered:
21-100
, 044, 157, 209, 250 & 163. I need your help. Thanks.
I would like this project completed by Christmas.
Joyce
Dave Sr. from SWISCO responded:

December 8, 2011

Joyce, where are you having the problem? Is it in the glide pins, or is it in the Pivot? Let me know.
A quick learner from atlanta, ga says:
December 8, 2011
Thanks for responding in a timely manner.
The doors are completly off, I need everything.
Some of the parts might be workable, but worn etc.
Again, the house is 50 years plus.
Thank you.
Sincerely
Joyce

A quick learner from Atlanta, GA says:
December 27, 2011
12/27/11
With the pictures I have sent can you please identify the parts I need to make the door slide in the track?
Thanks
Joyce Wisnewski
Dave Sr. from SWISCO responded:

December 28, 2011

Thank you for your patience in this matter. Unfortunately, if the Bifold parts we recommended do not work, I am not sure if we would be able to help you any further. I think it is a matter of installation. I highly recommend you contact a local professional to help you install these parts; at the very least, they will be better able to identify what you will need. I'm sorry that we could not help you any further.