Bifold door parts do not fit.
A quick learner from Holland, PA says:
March 30, 2016
I ordered some bifold door parts to repair my closet but they do not fit.
For
21-001
The bottom assembly. I believe I can take off the 3/8" cap and replace with a wider cap. Do they all fit universally with the pin or do I need to buy a whole new set and return the
21-001
?
The
21-154
does not fit the hole in the closet. The hole is too small. Do you have similar but smaller ones? I have to use the metal pin lock instead of the
21-154
. I need a return authorization for them.
The
21-007
pin cap is too small and the clip does not fit securely to my closet.
Please help. I want to fix my doors but I am getting to a place that they may be too old and just need replacing entirely.
Paul from SWISCO responded:

March 31, 2016

Thanks for posting. I think it would be best at this point if you were to show us pictures of the original hardware that was installed on your door beforehand. Please also provide detailed dimensions for each piece.
A quick learner from Holland, PA says:
March 31, 2016
Hello, thank you for getting back to me.
Attached are images and measurements of my closet track. The holes to hold the pin do not fit the spring assembly that I purchased. My track is little wider and I want to know if I can take off the caps from the ones I've already purchased and replace them with the different size.
Please help me purchase the right equipment.
Thanks,
Craifmg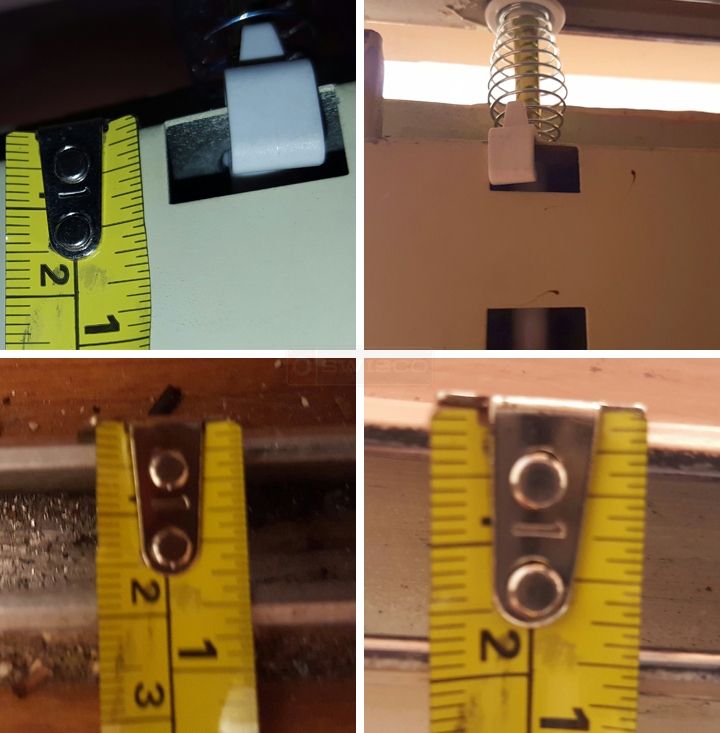 Paul from SWISCO responded:

April 5, 2016

Thanks for your patience. I'm afraid I still haven't been able to find anything. Is there any way to see the old pins and nylon guides out of the closet door? I also still need your measurements, since you mentioned that yours are a different size from ours. I am not sure exactly what size you will need. Finally, if you know the manufacturer, that would be a huge help!