Bilt Best Window Bubble Seal
A home owner from Westfield, MA says:
October 24, 2010
I am trying to locate a bubble seal for a Bilt Best window, circa 1990-91. Your company has the bubble seal for the sides of windows (50-088) but it may not work on the top and bottom of the windows. This bubble seal has a 3/16" U-shaped channel that fits into an metal slot on the window frame. I could not find a matching product on your website or within catalog but perhaps I am looking for the incorrect nomenclature. Alternatively, you may know where I could find this product. Thank you. Mike Barna
Bubble diameter is 9/32"
Width or height of U-shaped channel is 1/8"
Length of short tang is 1/4"
Length of long tang is 5/16"
If anyone has an idea on where I could find this, it would be greatly appreciated, These bottom seals are the practically non existent in some of the windows.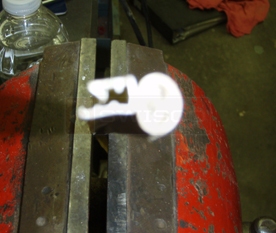 Mike from SWISCO responded:

November 8, 2010

The closest weatherstripping we carry would be the

58-164 Dual-durometer Weatherstrip

. However, it appears that the bubble seal portion of the weatherstripping snaps in, and the Swisco 58-164 may be a little too stiff for your application.
A home owner from Westfield says:
November 8, 2010
Thank you Mike for responding. Yes I saw the 58-164 but don't think it would work. For now, I am going to probably cut the bubble tube off and apply an adhesive backed tube from Frost king. The ribbed flange is fairly rigid and I think I will be able to clean off the soft rubber tube section with a sharp chisel, clean it and apply one of the better Frost King products. Given that I have a deployment coming up, I don't have time to hold out or search for the correct product.