Need help finding CareFree window pivot shoes
A home owner from Blaine, MN says:
July 12, 2012
Hi
I am having problems keeping my Carefree windows up and I need to find the parts. It seem that their are two components one is a spiral tensioning spring and the other is a white plastic rectangular part the pivot shoe holding the window and the spiral tension spring in place. I believe the pivot shoe part is the biggest problem and needs to get replacement parts. Please see attached pdf files for pictures more detail the windows. These window are in a 1995 28x60 manufacture home by Liberty. or do I need to supply you with more info. Do you also carry replacement weather stripping for these windows
What is the part number, cost and are they sold as each or pairs? Also do you have the instructions to replacing these parts?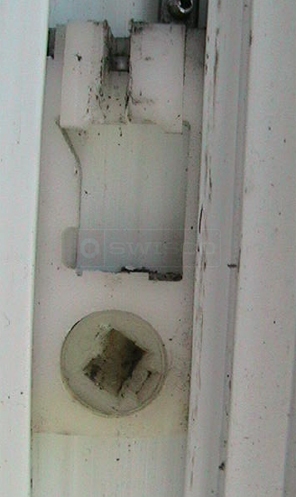 Tom from SWISCO responded:

July 12, 2012

Thanks for contacting us! Concerning the

pivot bar

, I'm having a bit of trouble identifying what you may have. Please remove it from the jamb and take a picture of it separately. Please also let me me know its width and thickness.

Make sure to watch our tutorial video which details the best way to remove your pivot shoe from the window.

As for the spiral balance, can you please let me know the diameter and length of the metal tube? Can you also tell me if your window is tilt or non-tilt? Finally, I will need to know the weight of your window sash. With this information, I should be able to recommend a spiral balance replacement for you!
A home owner from Blaine, MN says:
July 18, 2012
Let me first say that I removed the Pivot Lock Shoe from the jamb with out the jam spreaders and I thought I was going to damage the jamb, so the jamb spreader will be on my list of tools to purchase.
For the measurements I used a digital caliper that was zeroed before starting to measure. The width of the Pivot Lock Shoe I got two different measurements one was 0.973 inches = 973/1000 rounded to 31/32 inches and the other was 0.960 inches = 24/25 inches, the thickness of the Pivot Lock Shoe measured 0.372 inches = 93/250 rounded off to 3/8, and the height of the Pivot Lock Shoes I got two measurements one was 1.914 inches = 1 457/500 rounded to 1 29/32 inches and the other was 1.866 inches = 1 433/500 rounded to 1 55/64. Please see attached pictures for more detail on measurements of the Pivot Lock Shoe.
I removed the spiral balance from the jamb with was being held with one Phillips head screw. The diameter of the spiral balance is 3/8 and length was 26 inched long.
The windows are tilt windows and are single hung windows. Only the bottom window opens and tilts and comes out.
The weight of lower tilt window sash is about 30 pounds.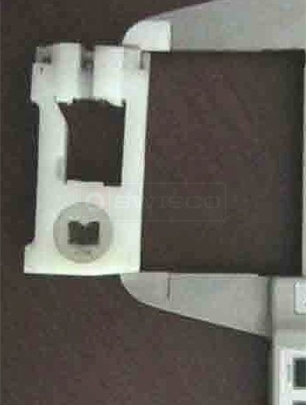 Tom from SWISCO responded:

July 18, 2012

Thank you for getting back to us. This pivot shoe looks familiar now! Please take a look at our

15-045

and compare its dimensions to your own. Does that look about right?

As for your spiral balance, based on your dimensions it sounds like it could be our

S900-26

. However, neither the red, nor the green tip color option for this balance can support a sash weight of 30 pounds; that is simply too heavy. Are you sure that's the weight of your window sash? I recommend you get as exact a weight as you can.

Alternatively, are you sure your balance tube diameter is 3/8"? Please double check that, as well. The other diameters it could be are 5/8" and 9/16" (

9/16" counts as 5/8" in the industry, however

). Let me know!
A home owner from Blaine, MN says:
July 31, 2012
Tom
I re weighed the window but this time I used a 5 and 10 pound bag of sugar to verify that the weight of the scale was zeroed right and the scale was on a hard surface. This time I got about 17 pounds. See the attached pictures.
Spiral balanced tube diameter re-measured is 0.382 which is closest to 0.3750 is equal to 3/8 so I would say it is a 3/8 balance tube. Would you not agree Tom? So I believe a
S900-26
Spiral balanced tube would be correct?
3/8 0.3750
9/16 0.5625
5/8 0.6250
Tom from SWISCO responded:

August 1, 2012

Thanks for getting back to us! A 17 pound sash definitely seems more likely. I also agree that

S900-26

sounds like a good option to consider. I recommend that you go with our red tip, which can carry a window sash weight range of 10 through 22 pounds.

Please keep in mind that the weight range information is based on 2 balances per sash. Balances are designed assuming friction in the jamb weather-strip will carry a portion of the sash weight. Suggested sash weights are approximate.
A home owner from Blaine, Minnesota says:
August 22, 2012
Tom I wanted to do a follow up with you after I received my order, the new Pivot Lock Shoes made a world of difference, I have notice one ot two windows when pull up the spiral tensioning spring seem to bind, I assume because there 16 years old they need replacement.
By the way I had also purchased your Jamb Spreaders and found that in my situtation they turned out to be nuckle buster, if the screw shaft was three- five inches longer it would have worked perfectly. You may want to consider lengthing it. Thanks for all your help.

Chris

Tom from SWISCO responded:

August 23, 2012

Thanks for getting back to us, Chris! I'm glad to hear that everything worked out for you. You're right about your balances: they might be a little old. You may want to try releasing some tension on them, as well. That could possible help.

I'm sorry to hear that the jamb spreaders were just a bit short! We'll definitely take this into consideration. Thank you again for your input!