Casement window assembly
A home owner from Hillsborough, NJ says:
October 10, 2014
Good morning. My name is Greg and I reside in NJ. I also have a second home in PA in the Pocono Mountains. In that home I have a room with several casement style windows without any markings. The room has a sliding glass door with matching framework and indicates it is an Andersen glass door. The casement window assembly on two of the windows no longer function.
I cannot find the replacement assembly anywhere and can't find anyone in window stores in Pennsylvania or in hardware stores who can provide any help. The only marking on the assembly bears the numbers 78 and I do know the house was built in 1979. A photo of the assembly is attached.
Any assistance you can provide in identifying the assembly would be very much appreciated.
Thank you for your help
Greg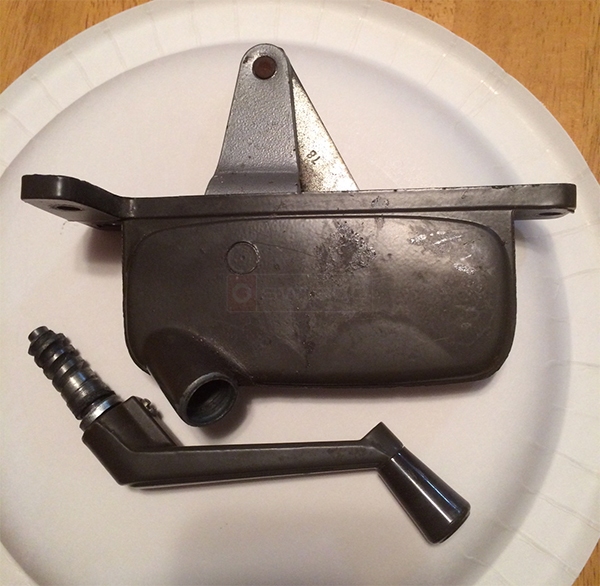 Tom from SWISCO responded:

October 10, 2014

Thanks for posting, Greg. There are a lot of possibilities so we will need more information in order to narrow it down.

First, can you tell me the distance between the holes? Specifically, I will need to know the distance between the top hole and the bottom hole (the one that is more parallel, since i understand it may be a little off-center) and the distance between the two bottom holes. Make sure to measure the holes from center-to-center, not edge-to-edge.

I will also like to know the length of the link arm, and another picture of it extended so that I can see the hole on the end. Hopefully with this information we can request something for you. Thanks!
A home owner from Hillsborough NJ says:
October 10, 2014
This message is for Tom and is in regard to my prior post. The assembly is currently in the house in Pennsylvania so I cannot get the measurements now. I will be going there in a week to ten days from now. Can I get back to you with the measurements. I can even mail the unit to you if the measuements are not done correctly.

Please advise if you can wait for me to get better information.

Thanks
Tom from SWISCO responded:

October 10, 2014