Channel Balance 2690 FG BSI
A home owner from San Jose, California says:
July 17, 2012
Can you please tell me how to order a replacement channel balance for the one shown in the attached photos?
The markings are
2690
FG
B.S.I.
35
The length is 27"
Thank you.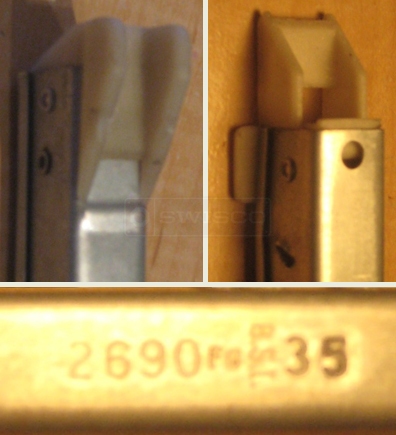 Tom from SWISCO responded:

July 17, 2012

Thanks for posting. Before I can confirm what Series channel balance you have, I'll have to figure out what bottom your bottom shoe is. Please look at the measurements for our

15-001

and

15-002

bottom shoes and note their depths. As you can see, they are 1-1/8" deep and 1" deep, respectively. Which measurement more closely resembles your own shoe?

Please also tell me the weight of your window sash.
A home owner says:
July 17, 2012
Thanks Tom, for your quick reply. The bottom shoe is slightly less than 1-1/8" deep, but the measurement is closer to 1-1/8" than to 1".

I don't have access to the window sash to measure its weight, but it is fairly heavy. I would estimate that its about 48" wide and 30" high, with double-pane glass.

Thanks.
Tom from SWISCO responded:

July 17, 2012

Thanks for getting back to us. I think it's safe to say that you'd want to go with our

15-001

, in that case.

Before we get started, though, I just want to clear up the sash weight. It's important to get as accurate a weight as you can. I think you might need the stamp 2665, which will carry a window sash that weighs anywhere from 33 through, and including, 36 pounds. Do you think that would do it? Let me know!

Please keep in mind that the weight range information is based on 2 balances per sash. Balances are designed assuming friction in the jamb weather-strip will carry a portion of the sash weight. Suggested sash weights are approximate.
A home owner says:
July 17, 2012
Thanks, Tom, for your detailed reply. Unfortunately, the window is in Reno while I'm currently in San Jose, CA, so I have no way to weigh it. Does the stamp of "2690" on the old window balance help? Or does the stamp of "35" indicate a 35 pound sash weight?

Thank you.

Paul from SWISCO responded:

July 19, 2012

The "35" at the end of your stamp does indicate a 35 pound sash, I believe. However, it's always better to check, just in case.

If you wish to go ahead with the order, take a look at the S395-27 with the stamp option 2665.