Channel Balance Numbers?
A quick learner from Port Orange, Fl. says:
May 1, 2014
I have measured the channel = 1/2
I believe I have identified top =
19-002
I believe I have identified bottom =
15-002
Measured length as per illustration = 22"
My Balance has a 21 12 BSI stamped on it. It doesn't match any of your listings.
What should I be ordering? I will need four when I get around to it.
Thank You.
Donna from SWISCO responded:

May 2, 2014

That is an odd stamp number.

Please remove the window sash and place it on a scale to get the window sash weight in pounds.

Next, look up the weight on the following Balance Stamp/Weight Table:

| Stamp Option | Sash Weight Range |
| --- | --- |
| 2110 | 5 to 8 lb |
| 2120 | 8 to 12 lb |
| 2130 | 12 to 15 lb |
| 2140 | 15 to 23 lb |
| 2150 | 23 to 27 lb |


*This information is based on 2 balances per sash. Balances are designed assuming friction in the jamb weather-strip will carry a portion of the sash weight. Suggested sash weights are approximate.
A quick learner from Port Orange, FL says:
May 9, 2014
I removed the window sash. (Which I am understanding to be the lower window.) I put it on my bathroom scale. It weighed 35.8 lbs. I see NO part number close to that weight class. So I measured the window sash. It is 50" X 25". It is a double pain thermal window bought at either Home Depot or Lowe's not too many years ago. Can't remember which and can't find receipt. Please help. I will be needing four as they are a pair in the front of my home.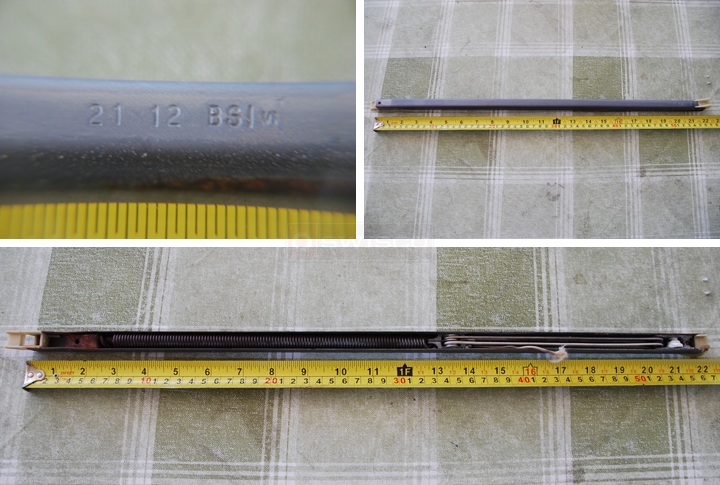 Tom from SWISCO responded:

May 9, 2014

We can custom make a balance for you with a 2170 stamp option. Two balances with that stamp can carry a window sash weight range of 34 through 37 pounds. If that's what you want to do, then check out this

Custom Channel Balance Request Form

I've started for you based on your specifications and fill out the rest of the information. One of our representatives will get back to you with a price quote and an item to add to your cart.