Channel balance problem
A handy person from Sedro Woolley ,Washington says:
October 6, 2012
I bought a home and it had one window that was missing a channel balance I thought would be a minor repair. I matched up the remaining channel balance with the Swisco balance and ordered two new ones.
I installed them as your video shows and all did not go well. I was barely able to get the lift out window back in but once it went in I closed the window and as I pushed down I could hear the springs on those new balance's not the normal sound you normally hear when closing a window. I then tried to open the window it was difficult and it would only go up 3/4 the way making the same loud noise. Then when I pushed it down the window again was hard to push sown and when it did go it would not close normally.
No sooner did it reach it's resting place one of the balances sprung and chipped a piece of my window frame . I fought to get the window back and discovered that one of the balances was damaged with a broken pulley or wheel on the bottom.
I did everything right my measurements, the length the end pieces, the installation. Whats wrong?? I think I have the wrong size balance what I have is a
S385-27
OPTION 2640 PS I also now have some damaged plastic parts on each side of my window that are attached to the window. Help!
Tom from SWISCO responded:

October 8, 2012

Thank you for posting! I agree, it sounds like the balance you ordered was far too strong for your window. When measuring the length of your original balance, did you make sure to only measure the metal channel? Also, was the stamp option the same?

The 2640 option can carry a window sash weight range of 19 through 26 pounds. Does your sash's weight fall within that range?

Please keep in mind that the weight range information is based on 2 balances per sash. Balances are designed assuming friction in the jamb weather-strip will carry a portion of the sash weight. Suggested sash weights are approximate.
A handy person from Sedro Woolley, Wa. says:
October 8, 2012
I did measure the metal only and took stamp option number off the only remaining balance it was a 2640. I guess I can weigh the actual window and see what it weighs. I am suspicious of the only remaining balance as it could have also been wrong the people who owned the house before me did a number of questionable repairs to the house that I have had to correct. What do you recommend I do I am more than willing to purchase another pair of balances and will have to replace the plastic parts that are mounted on the window which I assume is to hold the top balance in place. What option do you recommend and is there another way to determin what size balance I need if the one I have are wrong.
Tom from SWISCO responded:

October 8, 2012

I think the best thing to do now is weigh your window sash. Let's see if the 2640 is, indeed, the appropriate stamp. If not, then knowing your weight will help us find out what is. It may also help if we know the height of your glass, so as to determine if your channel length is also accurate.
A handy person from Sedro Woolley, Wa. says:
October 8, 2012
I weighed the window with a bathroom scale and got 24 lbs. The height of the window frame is 28 1/2" the height of the actual glass is 25" inches . the old balance says 26 4 LN Caldwell hope that helps.
Tom from SWISCO responded:

October 11, 2012

Thank you. We've been looking over the details of your window sash and balance, and we can't seem to think of anything that could be wrong. From everything we see, you have the correct hardware. We aren't sure why your balances aren't working. Could it be that the top sash guides are damaged?
A handy person from Sedro Woolley, Wa. says:
October 11, 2012
They are now, if you are referring to the plastic part that is screwed into the window frame at the top on both sides they are now both damaged. I assume that they hold the top part of the balance in place after the window has been installed and pushed down in the closed position.
I have one more question there are two holes on each side where the bottom part of the balance can be placed I was not sure which one to use so I tried the one that appeared to have some ware on it and that seem to work briefly then the top part of the balance pooped out. I tried the other hole and that was when it broke so obviously that one was the wrong one. Do you sell the top parts or guides for that balance and if so give the info and I will replace everything and try again thank you.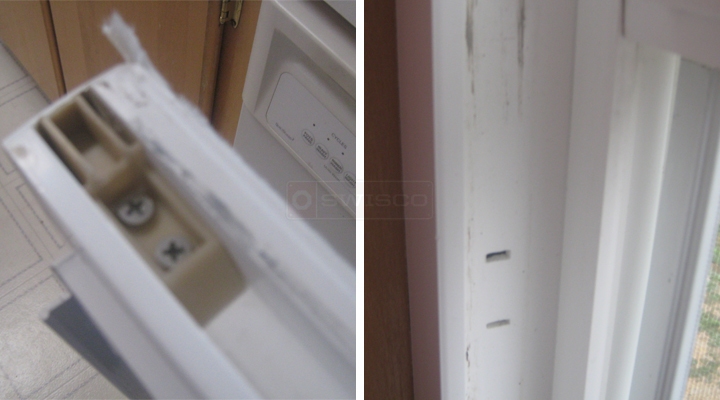 Tom from SWISCO responded:

October 16, 2012

Aha, I think that was the problem, then. You were definitely using the wrong hole. You may want to look at our tutorial video on how to replace a channel balance to see the proper way to install your own.

As for the top sash guide, I'd be more than happy to help you replace it. Before I can though, can you please give me its dimensions? If possible, can I also see it fully removed from the window sash?
A handy person from Sedro Woolley, Wa. says:
October 22, 2012
I made a mistake in measurements for the channel guides. Here's what I have 1 1/16 from top to the first screw hole center. 1 5/8 to the second and last screw hole center. It is 7/16 wide at the top hope this helps.
Paul from SWISCO responded:

October 24, 2012

Take a look at our

18-171

Alpine Stepped Sash Guide. Could that work for you?