Choosing between two different channel balance styles
A quick learner from Anaheim, CA says:
September 19, 2011
I live in this home for over 11 years. The windows are "aluminum"; manufacturer unknown. I had many problems with Channel Balances, Non-tilt, 1/2". Initially the builder supplied 2-3 pairs of balances, but always I seen minor differences. Then I went to a windows business in the neighborhood. I took the broken piece and they ordered replacement for me. In time I got two different models. Most of the windows have the top and bottom shown in IMG_4905 and IMG_4906. But other times I got what you see in IMG_4909 and IMG_4911. For window sash cam replacement I got what you see in IMG_4907.
Can you help me select the proper "Series ###" and the windows sash cam?
Second I would like to know which is the best size/length for balance. The windows sash in my home is of 35", 29" and 26". The window sash of 35" has balance stamped 3340 or 3440. The balance with stamped number 3340 seems to work better and last longer.
I am waiting for your reply.
Best regards
Traian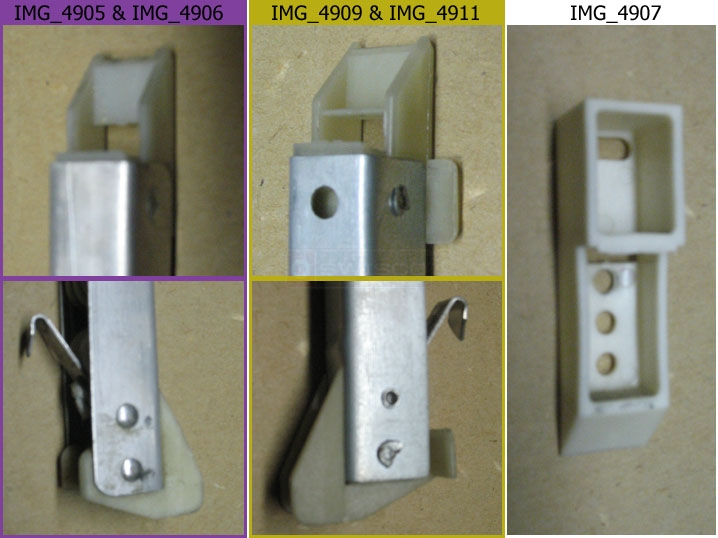 Paul from SWISCO responded:

September 19, 2011

Since IMG 4905 & 4906 work for you, you want to order our

series 390 balances

.

Now you say for the 35" sash the 3340 seems to work better for you. Then order Series 390-34" with option 3340.

You did not provide the numbers for the 29" & 26" sashes, so get back to me with those stamps.

IMG #4907 looks close to our

18-008

please check the dimensions and see if the hole you use matches.
A quick learner from Anaheim, CA says:
September 19, 2011
Thank you for very quick answer.
I have removed the window sash 35" and took a picture. The Balance extend outside of the channel which allows the sash bottom to wiggle (IMG_4916).
The sash has a channel of 11/16" which accepts perfect the top sash guide from the picture IMG_4907.
Last question, just curiosity. Do yo know other Top Sash Guide that may fit this type of windows?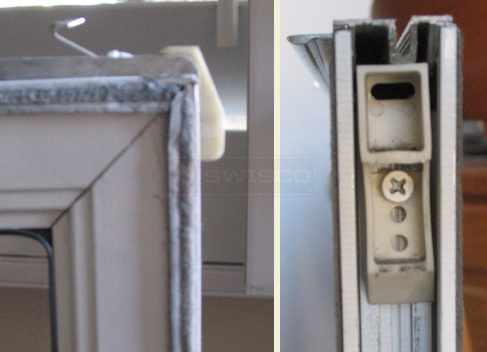 Paul from SWISCO responded:

September 21, 2011

It looks like the

18-008

top sash guide is a good match for you. We still need the stamps off of the 26" and 29" balances to help you choose which balances you need to order.