Closet door track help
A home owner from Fairfield, CA says:
March 30, 2016
I'm trying to help someone who needs a new bottom glass door track for his closet. The doors have been around for quite some time, as in old, but he just wants to fix, not replace. I guess it's 3 doors on 2 tracks. Center door on the back track and the 2 side doors on the other front track.

Are the bottom door rollers universal fit onto different glass doors? I'm not sure what track he would need or would matter. The only thing is it's again 3 doors and so it's about 12 feet long, or 141-3/4" long to be exact. The longest track you seem to have is 96" long. I don't know if using 2 6 foot long pieces is the answer?

Just trying to help him out. I've just seen a few pictures of the track that's pretty beat up.

Tom from SWISCO responded:

March 31, 2016

Thanks for contacting us. There are certain rollers that work on multiple doors, but none would be considered universal. The only way to know what you have is to see pictures of the original hardware. As for the longer track size, you would have to use two shorter ones and butt them together after cutting off the excess, yes.
A home owner from Fairfield, CA says:
March 31, 2016
Here is the bottom rail he currently has. The Doors ride on the 2 top out things.
It's 141-3/4 inches long, 2-2/8" wide, 1" wide on the left outside edge and 5/8" on the right inside closet edge. It was on Carpet, but will be going on a wood floor now.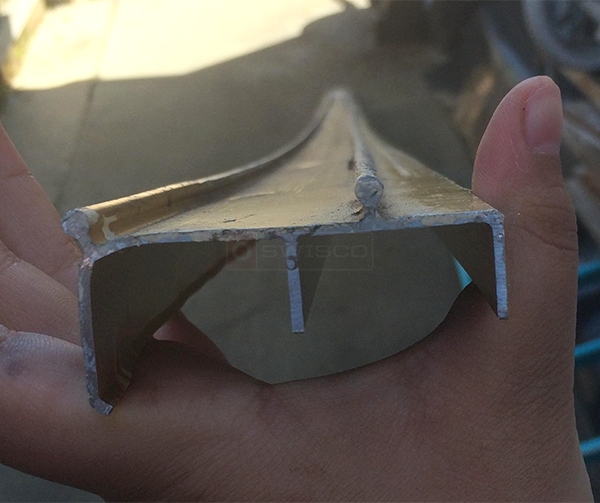 Tom from SWISCO responded:

April 1, 2016

This is a very unusual track. Was it bent like that on accident or is that how it was designed?

Either way, the only thing we can tell from this track is that it uses concave wheels. I just cannot say what will work without seeing the original. You can see our selection of mirror closet door rollers

here

.