Correct weatherstripping?
A quick learner from New Jersey says:
June 1, 2011
I can't find an exact match in your catalog for the weatherstripping below but this might be the result of the weatherstripping having been in place for over 30 years. Can you tell me which Swisco replacement weatherstripping you recommend?
The width of the backing is approx. 9/32" (0.273 inches) and the total height of the pile and the backing is approx. 6/32 (0.183 inches). This weather stripping comes from my large sliding windows which have Allen-Stevens hardware.
Thank you,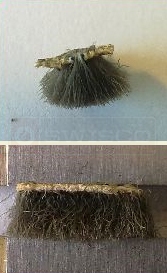 Mike from SWISCO responded:

June 1, 2011

Two different style woolpiles that come close to yours is our

58-128

and

58-099

. Both of them have the same width backing as the original so they both will fit, the only difference is the height of the wool-pile (and the 58-128 features a fin seal).

I think the 58-099 is the closest to your original but the wool pile is 1/4" taller. Do you think maybe your original wool-pile has been smashed down about 1/4" over the years?

The 58-128 is a 1/32" smaller, but if your original wool-pile once was taller... the 58-128 is going to feel even smaller than the wool pile that should be in your window. The 58-128 does feature a fin seal which will make it a bit stiffer.

Let me know what you think.
A quick learner from New Jersey says:
June 1, 2011
All excellent points. I was I knew hence my inability to select the proper weatherstripping from the catalog to complete my order. Could I mail in a piece?

I'm placing an order for rollers, handles, etc. and would like to get the right weatherstripping on the first go rather then having to buy, possibly return the weatherstripping and placing another order.

Many thanks,

Mike from SWISCO responded:

June 2, 2011

I just spoke with our window expert here and he believes the 58-099 is going to work for you. He said after 30 years most likely the old weatherstripping is worn down, which makes it very hard to get an accurate height. Sending a sample would not help because we would come to the same conclusion as you would about the height.

Give the

58-099

a try and let me know how it works out.