Double Hung - Hinged Window Parts
A quick learner from New Jersey says:
November 1, 2013
I just purchased a 28 year old condo with Alum. frame double hung windows that have a hinges on the left side for cleaning, instead of the typical tilt out. Several of the hinges are broken and several of the channel balances and missing or broken. Also some the slides that prevent the window from opening on the hinge are broken.
The hinge side of the window has the channel balance with markings 2240 and what looks like a F but without the bottom of the letter. The right side has 2230 with the same partial F if it's not clear in the picture let me know and I'll try again.
Both sides are 23 inches long. Both have the same top guide and the hinge side does not have a bottom guide. Thanks for your help. Mike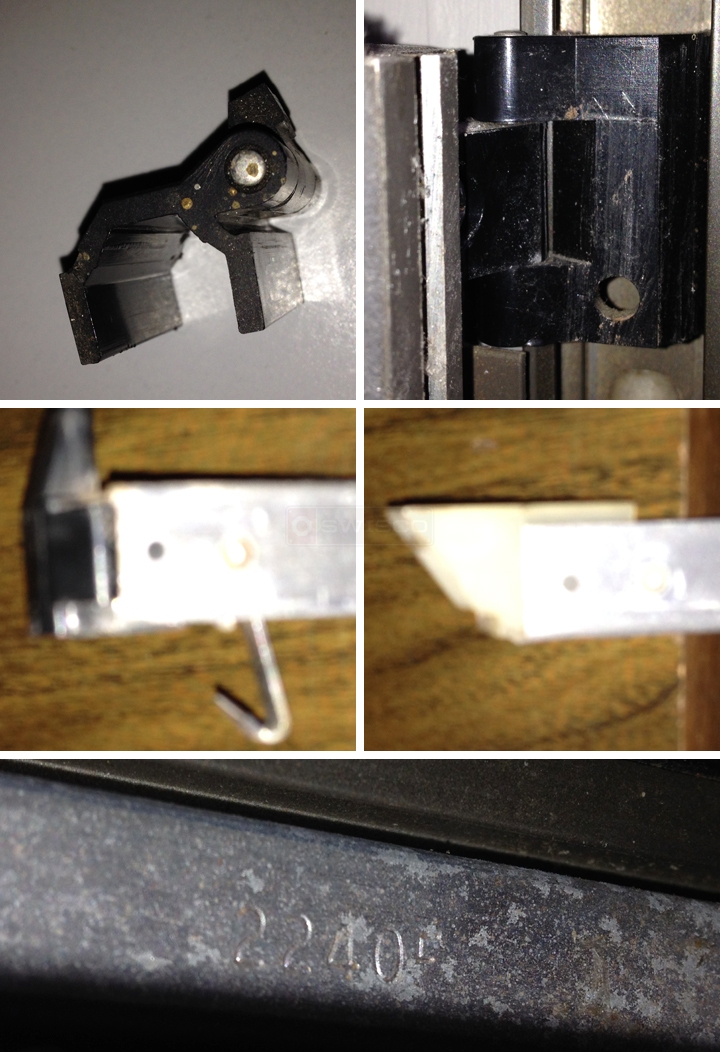 Tom from SWISCO responded:

November 14, 2013

Thanks for posting! This is a unique type of balance. Essentially, you will need two balances for your window, but like you said, one of them will not include a bottom shoe. This is intentional. We do not have an existing Series for these balances, so they will have to be custom made for you.

The first balance, with the stamp 2230, will have a bottom shoe. You can order it by referring to this

Custom Balance Order Form for the 2230

that I have started for you and filling out the rest of the information.

The second balance, with the stamp 2240, will not have a bottom shoe. Please refer to this

Custom Balance Order Form for the 2240

.

After you have finished filling out these forms, one of our representatives will be in contact with you shortly with a price quote and an item to add to your cart, which you can then purchase as a normal item in our catalog.

For the hinge itself, check out our

15-058

and see how well this matches.
A quick learner from New Jersey says:
November 21, 2013
Do you have any information on howto replace the channel balance on the hinged side?
Paul from SWISCO responded:

December 5, 2013

To be honest, I haven't repaired one of these windows in nearly 20 years back when they were still used in windows. It's been a while, but I think the process is the same as a typical channel balance, with a few differences.

First, you will have to pull out the stop, then raise the sash past the balances until it's disengaged. The balances will engage with the take-out clips. The sash should then be able to swing open. At that point, it should be a simple matter of popping the balances out.