Drawer bracket, G6600
A quick learner from tucson says:
July 21, 2011
I purchased a set of
32-018
brackets to replace broken ones. The broken bracket I have is stamped with the "G 6600", yet the new replacement bracket doesn't fit - it's too small. Are there other brackets for this series?
Mike from SWISCO responded:

July 21, 2011

I'm sorry to hear the

32-018

didn't work with your application.

To get started, take a few photos of your original bracket(s) and upload them so we can take a look.
A quick learner says:
July 24, 2011
Here are two photos of the bracket.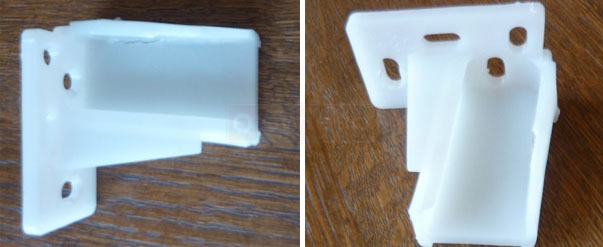 Mike from SWISCO responded:

July 28, 2011

Thank you for your patience.

Can you please give us the dimensions of your bracket? Try to give us measurment locations similar to that of the

32-018

image, as shown below:
A home owner from Keeseville NY says:
August 28, 2011
We are also in need of the G6600 brackets. The pictures that were sent into you by the other customer are the brackets that we have. You had asked that customer for the measurements and I measured mine. The measurements are as follows. Height 2 1/4", Width 1 1/4", length 2 1/4". For the inside measurements they are 1" and 3/8".
A home owner from Cleveland, OH says:
September 6, 2011
Thank goodness for ability to post feedback. I have the same G6600 part I'm hoping to replace, with near-exact part to save on install hassle.
Two photos attached:
1. Photos of 3 version of G6600 that I have
2. Measurements, based on above graphic. You'll see in red/maroon, that "outside" side is 1/8" taller, due to an extra 1/8" x 5/8"w "nub" of plastic.
Happy to send you the broken piece(s) for comparison.
Bonus Question + Photo: I'm wondering, don't you show these upside-down for install, as the extra piece (shown) gives the bottom more support? (All my kitchen drawer sockets were installed as shown, but I was wondering, since many were breaking, after about 8-10 years of use -- not our use, as we just moved in 1 month ago)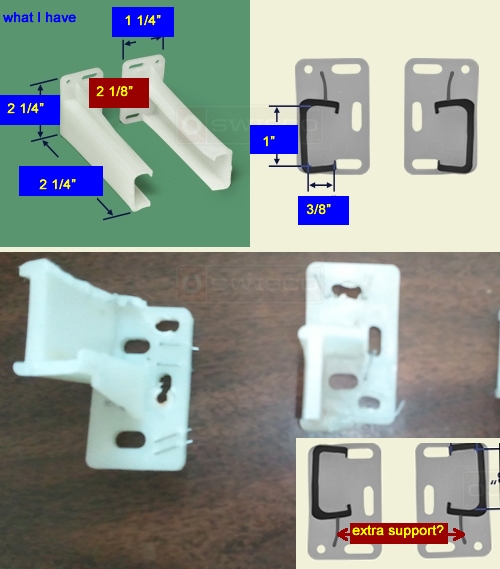 A quick learner from utensil sliding drawer with roller bracket says:
September 14, 2011
I have a right and left brokeb G 6600 bracket. It also has a * and an 8 embossed into it. The backet holder part is 2" and the brace to the wall is 3/16th thick. The bracket face to the wall is 21/8th long and 1 1/8th wide.The bracket holding arm inside dimensions are 7/8th by 3/8th. There is only one mounting hole in the top of the bracket and the other three are as indicated above. Can I get these from you?
Donna from SWISCO responded:

September 19, 2011

Please see new SWISCO product code

32-119

, Grass 6600 adapter bracket.
A quick learner from Cleveland, OH says:
September 21, 2011
FYI:
Due to my impatience, prior to receiving a reply on this, I ordered SWISCO
32-089
https://www.swisco.com/drawer-track-bracket/pd/Replacement-Drawer-Sockets/32-089
And the product worked suitably for my re-installation over the pre-existing screw holes. The longer length compared to the old Grass 6600 part seemed to suggest a longer durability.
Installation did require shoving the drawer roller track in somewhat. I'll report back if it breaks.
A professional from Findlay, OH says:
October 28, 2011
Specifically looking for the Grass 6050 (lt and/or rt). This appears to be a Grass hanger, but was wondering if you could tell me so. Or even if you carry the 6050 or just the 6650 & 6600.
Thank you in advance.
Mike from SWISCO responded:

October 28, 2011

Please take a look at our

32-119

Grass Adapter Bracket Pair.
A quick learner from USA says:
May 28, 2013
Looking for a replacement rear socket for a Unigrass G6600 series euro style drawer slide.
Please advise.
Tom from SWISCO responded:

May 29, 2013
A quick learner from Austin Tx says:
June 23, 2014
I am so very happy that the
32-119
works for the bracket G6600!! I looked for it for about 2 months.
It just takes a little nudging but it works. I am ordering more just incase another one breaks.
Thank you!!!