Get the window back into position after balance replacement
A home owner from lynn haven , fl. says:
May 18, 2011
How do you get a window back into position after it is taken out to replace balance? I need to order a balance for my Jordan window, but had been messing with it a little balance 2830 29 inches long
Tom from SWISCO responded:

May 19, 2011

Can you describe your situation more regarding getting your window back into position? Do you mean how to get the window sash back into the window jamb channel?

Do you need help picking out the proper replacement balance series for your window? If yes, please submit a picture of the top and bottom of your current balance so that we can see which type of balance you have.
A quick learner from lynn haven , fl. says:
June 6, 2011
I wrote to you guys on May 19 and received an answer right back. I think I got ahead of myself and am now starting over. I was raising the single hung window and the balance popped out on the right side. After examining the situation I found the black top sash guide had torn away from the screw hole letting the balance pop up and not be contained. So, I think all I need is the top sash guide. Do you agree? Thanks!
Paul from SWISCO responded:

June 6, 2011

Yes, the top sash guide could very well be your problem. Upload a couple photos of one of your sash guides that isn't broken so we can take a look and offer you a replacement recommendation.
A home owner from lynn haven, fl says:
June 17, 2011
Here's the pictures of the broken sash guide. Thanks for the help!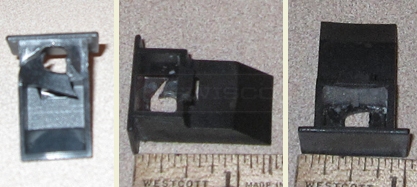 A quick learner from lynn haven , fl. says:
June 23, 2011
I just have a couple of questions after reviewing the
18-009 Top Sash Guide. Yes, my channel balance does measure 29", but it has 2830 stamped on it at one end. Would mine still be considered a 390 Series Channel Balance? My next question is: My top sash guide has only "one" screw hole, whereas the picture you sent shows "two" holes. The measurements between the two quides appear to be the same. Does this make any difference?
Thanks again for your help!
Paul from SWISCO responded:

June 23, 2011

The stamp 2830 makes sense for a 30" balance but it does not tell us anything about the top and bottom balance attachments. The different arrangements of balance attachments make up the various balance series. Match up the top and bottom attachments on your balance make sure they match the

Series 390 channel balance

which consists of the

15-001 shoe

and the

19-002 top

. If you need help, send us pictures of the attachments on your existing channel balance.

I would not worry about the

18-009

having two screw holes as long as the shape would fit your window. Match the shape of your top sash guide to the shape of the 18-009. Is the top screw hole of the 18-009 in the same place as the screw hole of your sash guide?