Glass Patio Door Replacement Roller
A handy person from Chicago, IL says:
December 27, 2011
I have a 40 year old house with sliding patio doors. I am trying to find replacement rollers (pictures attached). The roller casing is 3 inches long, 1/2 inch wide and the roller is 1 1/8 dia.
The doors do not indicate the manufacturer.
Thank you in advance for your help.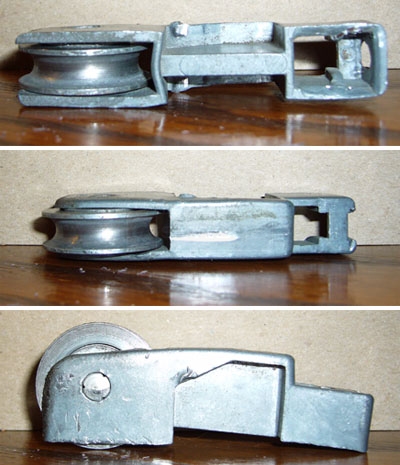 Dave Sr. from SWISCO responded:

December 28, 2011
A handy person from Chicago, IL says:
December 28, 2011
Dave,

Thank you for your reply. The housing on the roller I need to replace (not pictured) is broken so a new wheel is not an option. The 1/2 inch width is already a tight fit so to your point the 11/16 would likely be too large.

I will keep on looking and hope others may have ideas.

Happy Holidays!
Dave H.
Mike from SWISCO responded:

December 28, 2011

Can you send us a picture of the housing? We may not of recognized your roller without the housing.
A handy person from Chicago, IL says:
December 28, 2011
Mike,

Would you like to see a picture of the strip along the bottom of the door that the two rollers fit into? Otherwise the broken roller refered to above is the same as the picture above. The right side that holds the wheel in place broke off.

Dave H
Mike from SWISCO responded:

December 29, 2011

Oh, I understand now. I was hoping there was another piece to this roller that might help us recognize a replacement. Unfortunately I do not think we have a replacement for this old sliding door roller. If we come across this roller in the future I will let you know.
A handy person from Canada says:
July 30, 2014
I have the exact same sliding patio door. The roller assemblies are located in an aluminum channel and held in place by lips going into those cutouts on either side. There is a long adjusting screw for each that goes into a captive nut at the end and is crimped so it can't be completely unscrewed. Tightening the screw pulls the assembly so those ramps push the wheels down. Mine aren't broken (yet) but the wheel holders were bulged and the lips bent. I squeezed everything back in shape as best I could so I can still slide the door without dragging on the wheel holders. Mine are worn more than the middle picture above. If the OP's door is in good shape, he could maybe try adapting some other roller assemblies. In my case, the door is quite weathered and there's condensation between the glass, so I'll be looking to replace it within a year.