How do I remove Alenco window rollers?
A quick learner from Laguna Hills, CA says:
September 19, 2013
I have Alenco windows, circa 1992.
The rollers on the sliding windows no longer roll, and need replacing. But, how do I get them out? The whole window won't lift up enough to take the window out. Can I simply unscrew the screw in the picture and pull the roller assembly out - perhaps with needle-nosed pliers? Or, if it pulls out, can I leave the screw part way in, and use it to pull the assembly out?
And, can you tell from the photo what part I need? It's 1/2" wide x 3/4" high.
The second set of photos is of an Alenco non-tilt sash window. The "frame" is just disintegrating. This "frame" looks purely decorative; it's plastic about 1/2" x 3/16" x 45". Does it just pry out, and do you have a replacement? Or is it glued to the window glass? Or, is it a functional part of the window?
Lastly, I need some replacement latches. Is there a functional difference between
90-009
and
90-005
? They look pretty identical in your photos.
Thanks, Gary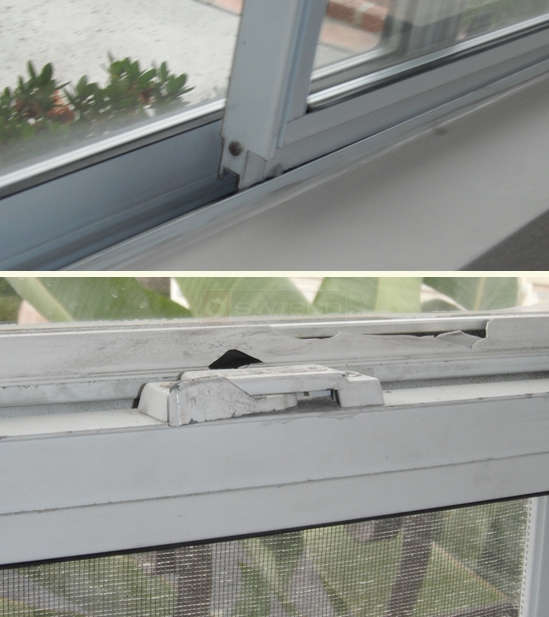 Paul from SWISCO responded:

September 25, 2013

Thank you for posting. In removing the sliding sash, check the top of sash or track. There could be a screw on the top to prevent the sash from lifting up. Sometimes moving the sash to a particular spot will let you raise it. Otherwise, the window may have been installed too tightly, or perhaps the top header has sagged to prevent you from lifting the sash. There's not much you can do about that, unfortunately. You should call a handy man to come out and look at it for you in that case.

The roller you are looking for could be our

87-165

, but I would need to see pictures of yours removed before I can say anything for sure. For the crumbling glazing, check out our

55-174

.

The difference between the

90-009

and

90-005

can be found in their tongues. I can't see yours in these pictures, but remove the lock and see which is closer.