How do I replace my window's bubble seal?
A home owner from Lansing,Michigan says:
May 23, 2011
I need to replace a lot of my windows bubble seal weather striping, it appears to me that I have to take the window "apart" to remove and replace this ??
Mike from SWISCO responded:

May 23, 2011

Good Morning,

Send us a couple pictures of your window and bubble seal and we can hopefully suggest a plan of action from viewing your images. Do you know what brand of windows you have?

Once we can get the old bubble seal out of the window, we will need to see a profile to determine a replacement.
A home owner from Lansing, Michigan says:
May 25, 2011
I figured out how to get the bubble seal strip off, did have to remove a coule screws holding the window together but wasn't a problem. There is no brand name on the window, think they were custome made by a local window shop over 20 yrs. ago and no longer in business. I have attached a couple pictures and a hand drawing I made of what the deminisions are to as close as I could. The bubble seal is soft rubber but the rest of the stripping is a semi rigid plastic.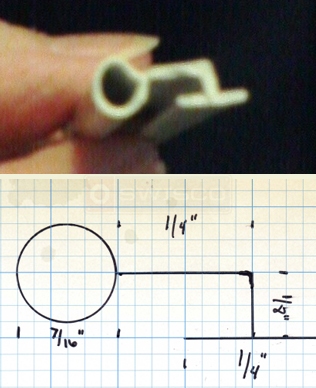 Mike from SWISCO responded:

May 27, 2011

We are currently working on researching possible replacements. An update will be posted as soon as more information becomes available.
A home owner from Lansing,MI says:
June 8, 2011
Hello Mike, following up with you on my bubble seal weather strip question. Have you had any luck in determining if there is a possible replacement for me? Thanks for all your help.
Donna from SWISCO responded:

July 26, 2011

Hello,

We just added a new replacement weatherstrip that could possibly work for you.

Take a look at new SWISCO product code

58-171

, Offset T-Slot Foam Filled Bulb Weatherseal.
A handy person from Columbus, OH says:
August 29, 2013
I wanted to let you know that I had the exact same weatherstripping as the gentleman from Lansing, MI. Based on your advice here I ordered the
58-171
and it worked perfectly. The window is a little stiffer opening and closing since the weatherstripping is foam filled and thus stiffer. But it seals well and looks better than the old hanging down bits!