I'm looking for a couple of Tilt-Window Replacement Sash Pivot Bars
A landlord from California says:
July 9, 2013
The Pivot Bars I need look almost identical to your Product Code
26-360
except that they are 2-15/32" in length and have two holes centered 1" apart with the first hole located 1-7/16" from the head (opposite the pointed side). I do not know the name brand of the window though I think it was a milguard and there are no markings on the pivot bars. I can send a picture if you need it.
Tom from SWISCO responded:

July 10, 2013

Thanks for posting. Looks like our

26-360

is the closest possible match that we have. 2-15/32" is only 1/32" away from 2-1/2", so I don't think your length will matter. As for the first hole, I recommend that you double check your measurements. On the

26-360

, the second hole from the head is spaced at 1-3/8", which might be what you want to use.
A landlord from California says:
July 16, 2013
I made a mistake on the overall length. It is almost 3" long (2.9" or 2-29/32"). The first may be close to 1-3/8 but that puts the second hole at 2-3/8" which is well beyond the third hole on the
26-360
and almost off the end of the part. Do you have anything like the
26-360
except longer? I could cut it but it's much harder to stretch.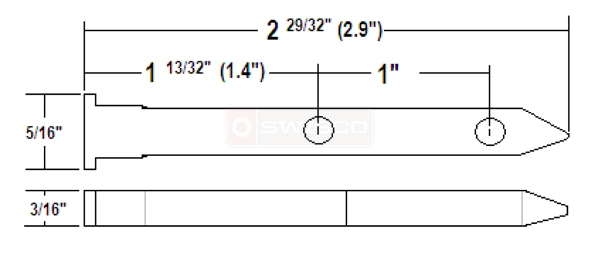 Tom from SWISCO responded:

July 18, 2013

It doesn't appear that we have anything that matches those exact dimensions. What hole are you using? That's the most important one. If the hole you're using matches up, then you don't need to worry about the other ones.
A landlord from California says:
July 18, 2013
Unfortunately the assembly currently uses both holes so I would have to drill a fourth hole in the
26-360
(which would end up at the very end of the bar) or leave out the one screws altogether and hope it doesn't adversely affect the operation or longevity of the window. Seeing that both of the factory pivot bars broke at the first hole this may be in material since this is obviously the weak point in the design. Any thoughts on these options?
Tom from SWISCO responded:

August 7, 2013

Thank you for your patience in this matter. Unfortunately, we have been unable to find an exact match for you. Could I maybe see the pivot cam? We may be able to come up with a substitute.